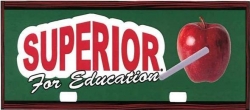 Santa Fe Springs, CA, May 22, 2012 --(
PR.com
)-- Superior Grocers, one of the largest independent supermarket chains in Southern California, is proud to announce its latest donation to nearby schools through its "Superior for Education" Program. With support from Colgate-Palmolive Company, Superior Grocers will be awarding 19 area schools with a $1,000 monetary donation each. Schools were selected based on their proximity to Superior store locations.
"At Superior, we are committed to establishing a special connection with our customers throughout Southern California," said Phil Lawrence, Chief Operating Officer of Superior Grocers. "Through our Superior for Education' program, we partner with caring companies like Colgate-Palmolive, to help generate donations that benefit our communities' schools."
Launched earlier this year, the "Superior for Education" program establishes a partnership between Superior Grocers and vendor partners to support education and help raise funds for local schools in Southern California communities. This new program will run throughout the year and as a result, is expected to award thousands of dollars to Southern California schools.
"Superior Grocers values the importance of the community's vitality and educational programs," said Mimi Song, President & CEO of Superior Grocers. "We are active partners in the communities we serve and will continue to support the improvement of education throughout Southern California."
A special ceremony to award these donations to school representatives will be held on Thursday, May 24th, 2012 at 10a.m. The event will take place at the Superior Grocers' store location at 1201 W. Whittier Blvd, Montebello, CA 90640.
About Superior Grocers
Superior Grocers is a privately-held independent Supermarket chain serving Southern California with 38 stores in Southern California. It prides itself on providing Superior Quality, Superior Savings and Superior Value to the communities that it serves. Superior Grocers also believes in hiring from within its communities of service and to promote employees to management positions from within its own ranks. For more information about Superior Grocers, please visit www.superiorgrocers.com.