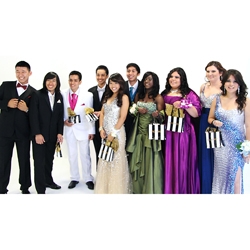 Los Angeles, CA, May 23, 2012 --(
PR.com
)-- Saturday May 19th select students from Fairfax High school in the Los Angeles Unified School District, fulfilled their dreams and fantasies on their Prom day.
For a 2nd year "The 2012 Dream Prom" was made a reality; thanks to the collaborative efforts of Good Work(s) make a Difference and all of the very generous sponsors.
Designers Jessica Mc Clintock, Tadashi Shoji, La Femme Fashion, Go Suit Italian Men's clothing and Shiekh Shoes, allow students the opportunity to pick several dresses, shoes & Tuxedos of their choice.
Hands On Spa of Beverly Hills provided spa manicures & Minks.
Hair services were provided by Batia & Aleeza hair salon also of Beverly Hills.
The big day for students began early in the morning, like celebrities preparing for a Red carpet, and no red carpet look is complete without make-up from Napoleon Perdis Cosmetic provided by the professionals at Napoleon Perdis Hollywood Academy.
The students were greeted with cheers and a toast as they made a grand entrance putting on a mini fashion show for their families, dates and photographs of some of the designer pieces they got to keep.
The students were treated to a mini champagne party at Napoleon Perdis Hollywood Academy, posing for a photo op before being chauffeured by Crown limo's stretch hummer to a sumptuous pre dinner at Lisa Vanderpump's Hollywood Sur Restaurant – where they got to be photographed with the Sur cast of the new Bravo show, before joining their Classmates of 2012, at the Fairfax High School Senior Prom at the Castaway Burbank.
The winners of this year 2012 Dream prom project came from a variety of social and economic backgrounds. The diverse cultures that make up Fairfax High School contribute to its uniqueness as a model School.
The students this year included boys, who were selected based on their scholastic achievements, humanitarian contributions and community involvement. They wrote compelling essays that were submitted to Greenway Arts Alliance & Good Work(s) Make a Difference.
Good Work(s) Make A Difference pooled their Hollywood resources' & contacts to make this 2nd annual Dream Prom project a reality.
The quote "No man is an island" and "No one can do everything but we all can do something," rings true to this year's Dream Prom project.
Sadly, not every graduating senior has the resources or opportunity to participate in the time honored American tradition of the senior prom.
The students & parents gratitude was evident on their smiling faces.
The students were posting later on their individual social media pages personal pictures and their heartfelt thank you notes of an unforgettable day.
Good Work(s) Make a Difference is a Fashion accessories lifestyle branded company that gives back 25% of its profits to a variety of non-profits that Make A Difference in our world today.
Greenway Arts Alliance is a 501(c) 3 non-profit organization in Los Angeles that unites communities through art, education and enterprise by creating a bridge between art & education. Greenway provides invaluable support for high school students and Fairfax High School as a whole, by offering activities and programs not provided for in the school budget.
For more information about this story, please contact Annette BibbyOliver, coordinator of Dream Prom Project and Marketing Director of Good Work(s) Make A difference at 213 620 0001. Email: annette@goodworksmakeadifference.com
www.goodworksmakeadifference.com