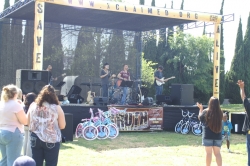 Stanton, CA, May 24, 2012 --(
PR.com
)-- Saturday, May 19, 2012, Xclaimed Ministries hosted a community "Free Concert in the Park." Over 100 children received free toys and 10 children won brand new bicycles. The ministry provides these free events as part of its main outreach. Everyone in attendance receives a free cooked meal which consists of a cheeseburger, bag of chips and bottled water. Lucky Chinese Restaurant, OC Grill, Fuegos and Original Tommy's Hamburgers all contributed to Xclaimed Ministries to help the community by providing about 35 free meal vouchers and family meal combos. Paul Karanick, President of Xclaimed Ministries, said, "Many times it is difficult for businesses and individuals to physically reach out to help the community, but they can donate to a ministry like Xclaimed that physically goes into the community and offers assistance to the people. There are amazing possibilities when businesses and non-profits work together to make changes within the community."
There were many children attending this event, and in fact, they comprised nearly half of the attendance. Several of the children come from low-income families and many are considered homeless due to the fact that they live in a motel. In Orange County, California, the Orange County Department of Education reported that in 2010-2011 over 28,090 children in the OC were considered homeless; 973 of these children lived in motels.
Karanick said, "We happen to be in a community which has plenty of people living in motels. However, we seek to help low-income families and children no matter where they live. By providing "Concerts in the Park" we are able to offer a free day of family fun, food and prizes while simultaneously getting to know the people personally and finding out their particular needs. One of the great benefits of this ministry is the ability to see children and families have an absolute blast at these events and it doesn't cost them a dime. It is hard to describe the expressions of the children as they win a bicycle or pick out a new toy."
In 2009, Karanick realized that the ministry needed to go into the community. They could not afford to purchase or even rent a professional stage, so he started drawing out on paper different ways that the ministry itself could put together a stage. A few months later, the ministry was able to use those drawings and put together a stage and as the saying goes, "The rest is history." Hundreds of children have received new bicycles, thousands of people have received free Bibles, cooked meals, toys and over a thousand people have accepted Jesus into their life as their personal Savior.
Karanick and his wife Christina began the ministry in 2005 and have had to overcome many obstacles and challenges which have strengthened their faith in Christ. This walk of faith inspired Karanick to write a book about the journey; Faith of a Mustard Seed will be available July 2012.
From the book Faith of a Mustard Seed:
"'And without faith it is impossible to please Him, for he who comes to God must believe that He is and that He is a rewarder of those who seek Him.' (Hebrews 11:5-7, NASB) Through faith in God David destroyed Goliath against all odds, Shadrach, Meshach and Abed-nego were protected in the fiery furnace, Daniel was not eaten by the lions, Gideon was victorious, the sick were healed, the lame walked, the blind could see and the dead was raised. Faith is not only pleasing to God, it is the single most important factor in Christ working through our lives. Jesus did not perform any miracles within His own town because of the people's unbelief (Mark 6:4-6, NASB). For God to work through us, we must have faith. Jesus says that if we have a mustard seed of faith nothing will be impossible for us (Matthew 17:20, NASB). Paul demonstrates through his life and God's Word how to grow closer to God and allow Him to take full control of our lives. In reality, walking by faith is walking closer to Christ. The more faith we have in Christ, the more He is revealed to us and the greater our relationship with Him."
For additional information visit the Xclaimed Ministries website at http://www.xclaimed.org