World Oceans Day Media Advisory: OceanElders, WildAid and theBlu to Host Global Online Celebration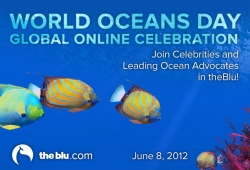 Venice, CA, June 08, 2012 --(
PR.com
)-- What: OceanElders, WildAid, and theBlu.com are holding a global online celebration at theblu.com, in honor of World Oceans Day, June 8, 2012. Entitled, "If You Love The Ocean, Download It!" Interested parties are encouraged to start registering immediately to ensure best interaction with the celebrities and leading ocean advocates expected to participate.
Who: OceanElders members are: Sir Richard Branson, Jackson Browne, Dr. Rita Colwell, Jean-Michel Cousteau, Dr. Sylvia A. Earle, Graeme Kelleher, Sven Lindblad, Her Majesty Queen Noor, Nainoa Thompson, Ted Turner, Captain Don Walsh, Neil Young and founder Gigi Brisson.
The event will unite individuals, communities, and organizations all over the world in a globally shared moment celebrating the beauty and significance of the world's ocean. On June 8, the "Big Blu" whale, created by Academy Award winner Andy Jones (for Avatar), will be seen for the first time, and Ambassador Species sponsored by WildAid and OceanElders will be available for purchase. They suggest participants download now and log in early on June 8th.
When: Friday, June 8, 2012 at theblu.com
Details: theBlu is an easy-to-download app for Mac and PC, available now at theblu.com
Social Media: Suggested tweet examples for June 8:
Celebrating #worldoceansday following Big Blu whale around the world! @intheblu If you love the ocean, download it! theblu.com
If you love the ocean, download it! theblu.com Connecting with amazing people across the globe @intheblu. #worldoceansday
If you love the ocean, download it! theblu.com Buy Ambassador Species to support @WildAid @OceanElders @intheblu #worldoceansday
Social media handles and hashtags: @intheblu @WildAid @OceanElders #worldoceansday #theblu
Watch theBlu Video: http://youtu.be/enPlsab8L-8
About theBlu: (www.theblu.com) TheBlu "app" was launched in Times Square on May 4, 2012 with interactive shows on the large NASDAQ and Reuters video screens. http://youtu.be/yLKR2-43D-M TheBlu is produced by Wemo Media, an entertainment studio based in Venice, California, and 2012 winner of the SXSW Accelerator Award for best entertainment start-up. The company was co-founded in 2010 by Neville Spiteri, a media creative executive formerly at EA, Square and Digital Domain, and Scott Yara, a successful repeat entrepreneur and president/cofounder of EMC|Greenplum. The team includes Andy Jones, Academy Award® winner for Avatar, and on the board of advisors, Joichi Ito, Director of MIT's Media Lab, and Sylvia Earle, Time Magazine's Hero of the Planet. Additionally, as a global social art and entertainment project, Wemo Media's "theBlu" team includes a growing community of artists, animators and developers worldwide.
About WildAid: (www.wildaid.org) WildAid the only organization to focus on reducing the demand for wildlife products with the strong and simple message: when the buying stops, the killing can, too. WildAid works with Asian and Western celebrities to dissuade people from purchasing wildlife products via public service announcements and educational initiatives. WildAid's roster of Ambassadors includes Leonardo DiCaprio, Yao Ming, Jackie Chan, Ralph Fiennes, Minnie Driver, Carmelo Anthony, Lang Lang, and Sir Richard Branson.
Contact
The Blu
Richard Snee
509-251-9436
theblu.com
Media Relations at theBlu

Contact
Multimedia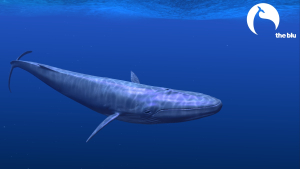 Big Blu created by Academy Award winner Andy Jones (for Avatar) will be swimming in theBlu starting June 8.