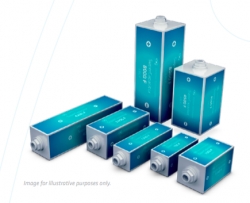 Berlin, Germany, June 12, 2012 --(
PR.com
)-- Skeleton Technologies, producer of the world's highest performance ultracapacitors, today announced its new SkelCap series ultracapacitor family with devices ranging from 2.47 to 12.53 kilowatts (kW). The cells represent a 300 per cent increase in power and 200 per cent increase in energy when compared to the best similar products in the market today. Skelcap is considered the first Ultracapacitor 2.0 due to the unprecedented increase in performance which represents the largest ultracapacitor product-level breakthrough since the start of it's commercial production in 1978.
Skeleton Technologies' CEO Mr Taavi Madiberk noted that the company currently stands alone in the Ultracapacitor 2.0 category since rivals such as NanoTune, Graphene Energy, and others with promising materials technology, have not yet been able to reach production status. "Manufacturers of conventionally-activated carbon ultracapacitors, like the market leader Maxwell Technologies, NessCap or Ioxus, are unable to compete with the three-times increase in power density and two-times increase in energy density – the single largest breakthrough in an ultracapacitor product."
"Improvements in energy storage are usually marginal and time-consuming," Mr Madiberk added. "For example, in January this year, Ioxus heralded a 12 per cent increase in power density, which was over two-times higher than the 5 per cent power density increase target set by European transportation companies. In contrast, SkelCap has exceeded the 5 per cent target by 60 times."
The secret behind the breakthrough Ultracapacitor 2.0 devices is the patented carbide-derived carbon SkeletonC™ material, which enables the modification of pore size and structure on a single nanometer level. The surface of the carbon particles contains larger pores than the inside of the particles which allows increased access to nanopores by the liquids, in turn raising the energy density. On the other hand, low internal resistance of the nanostructured material raises the power density.
This has allowed Skeleton Technologies to raise the energy density to 10 Wh/kg and the power density to more than 40 kW/kg. Mr Madiberk commented on the focus of the company for the coming years: "Skeleton Technologies is firstly aimed at the high-end defence and space sector where the extra performance gives our customers a significant advantage over the competition. Starting with rocket launchers and ending with electromagnetic weapons, SkelCap series' solid aluminium casing can withstand the harshest environments. Our current customers such as the European Space Agency serve as a good validation for our products before taking on the automotive, wind-turbine and electricity-grid markets where ultracapacitors recuperate breaking energy or provide peak and back-up power. However the company's long term goal is to use our technological advantage to bring down the cost of ultracapacitors 8x times from current conventional ultracapacitor manufacturers to less than 1,50 dollars per kW."
The SkelCap family will be introduced at Eurosatory - the largest defense exhibition in Europe - held in Paris from 11th to 15th of June.
SkelCap series ultracapacitors' biggest differentiators include:
* 300% more power, 200% more energy than competitors;
* More than 3x smaller form factor for the same performance;
* Performance validated by customers such as European Space Agency and industry experts at University of California Davis.
SkelCap data-sheets:
http://skeletontech.com/Skeleton-Technologies-SkelCap-Datasheet-120608.pdf
About Skeleton Technologies, Ltd.
Skeleton Technologies is the world's leading high performance ultracapacitor producer with Sales and Headquarters in Berlin, Germany and pilot production in Tartu, Estonia. The company's solid-aluminium-encased ultracapacitors provide three-times higher energy density and two-times higher power density than its competitors. Its SkelCap series ultracapacitors are available for high-performance applications with devices ranging from 2.47 kW to 12.53 kW, with custom solutions available on request.