Music Video Honoring Taylor Swift Filmed with Cast of Over 150: Message Empowers Kids to Speak Out Against Bullying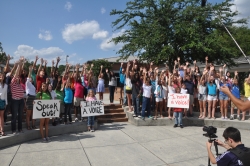 Atlanta, GA, June 15, 2012 --(
PR.com
)-- Over 150 children and adults just joined together to film an anti-bullying music video that also honors Taylor Swift. The song, with its memorable tune and positive message, has already empowered kids, both victims and bystanders, to speak up to stop bullying. Once released, the video will have an even greater impact as it incorporates a number of inspiring scenes of kids doing the right thing when faced with bullying.
The song's writer, 10-year-old Jolie Montlick, was inspired to write the song after sitting in the front row of Swift's "Speak Now Tour" this past November. Jolie is also a National Spokesperson for A4K, The Ambassadors for Kids Club, an anti-bullying organization (a4kclub.org).
The song begins with Jolie telling her true story of how Taylor is her favorite artist, and how she was excited for months waiting to go to her concert. Jolie sings about how Taylor loves her fans and sings from her heart, and how Taylor's music makes her smile and touches her heart.
Jolie then re-tells Taylor's story about being bullied in middle school, and how when she sat down at lunch other kids got up and walked away. She tells how it is hard to believe that people would be so mean, but that it can happen to anyone. On this issue she sings: "A few kids are the bullies, some get bullied, but most kids just stand by idly. It is wrong to stand by and watch and do nothing...We have to use our voices to speak out, to stop the bullying...To stop the bullying." In the chorus Jolie sings, "I want to be the girl who sits with Taylor Swift, I want to be the girl who she can have lunch with. I want to be the girl who didn't walk away, who teaches with her smile the world will be ok."
The video was filmed on the campus of Cape Fear Academy ("CFA") in Wilmington, NC, with the school donating the use of its facilities because it felt strongly that the message had great potential to help kids across the country. The song is brought to life through a number of school scenes, and is intended to motivate and empower kids to take appropriate actions and speak up when they see bullying.
"The community really came together by volunteering to participate in this video," said the video's producer, David Montlick, CEO of Montlick & Associates in Atlanta, Georgia. "We had a wonderful cast of over 150 people, both kids and parents, who all came with the idea of helping others. Bullying is a problem that affects us all, and during the filming a number of parents shared stories with me." When asked about the two-day shoot he added, "There were several moments during the filming where we showed kids doing the right thing in the face of bullying, where people got chills as they watched the heart-warming actions that kids were taking. I am confident that this video is going to inspire kids to take positive actions, and that we are going to have a real impact."
As a National Spokesperson for The Ambassadors for Kids Club, Jolie Montlick has appeared in public service messages on TV and billboards, and has been interviewed regularly in television newscasts to encourage kids to speak out when they see other kids being bullied. In addition to singing and playing the guitar, Jolie is a 2nd degree black belt in Tae Kwon Do, and two-time state champion. She is also a "Level 2" Instructor with the American Tae Kwon Do Association, which is the highest level that can be achieved before the age of 18. Jolie has volunteered to help teach introductory self-defense classes to over 1,000 kids – classes that include not just the physical skills, but also life skills such as honor, integrity and perseverance.
According to 10-year old Jolie, "Taylor Swift is such a good person. I dream about meeting her one day. I was inspired by how she overcame bullying and became such a positive role model. She didn't let bullying stop her from accomplishing her goals." Like Taylor, Jolie is determined to make a difference and help others in a meaningful way.
The Video Director was Brian McArtan, of Brick Street Cinema; Casting Director and Assistant Director was LJ Woodard of the Performance Academy, all of Wilmington, NC. David Montlick, CEO of Montlick & Associates in Atlanta was the Producer. Montlick & Associates is sponsoring the production of the video.
About Montlick & Associates - Montlick & Associates (
montlick.com
) is a personal injury law firm, headquartered in Atlanta GA, that offers legal services to clients throughout Georgia and the Southeast. The firm has a long history of giving back to the community, not just in terms of free legal advice to injured people, but through its extensive Family Safety and Injury Prevention programs over the past 28 years. The firm is also the Founding Sponsor of the A4K Club.
About A4K Club - A4K, The Ambassadors for Kids Club (a4kclub.org) is a program of Children Without a Voice USA (CWAV), a well-respected, non-profit organization that advocates the rights of abused children across the country and is committed to preventing all forms of child abuse, including bullying. Their web address is cwavusa.org.
Contact
Montlick Media Services, LLC
Melinda Jeffress
404-529-6333 x357
www.montlick.com
www.montlick.com/a4k

Contact