CoachArt Receives Culinary Camp Scholarships from Chef Eric's Culinary Classroom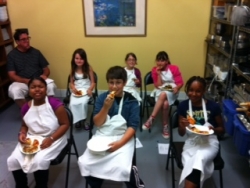 Los Angeles, CA, June 20, 2012 --(
PR.com
)-- Eric Crowley, the Owner of Eric's Culinary Classroom, had donated 25 scholarships to his Kid's Summer Camps at his a Cooking School in West Los Angeles to CoachArt.
CoachArt provides free lessons in the arts and athletics to children with chronic or life-threatening illnesses and their siblings. Chronic illness affects 1.5 million youth nationally. In Los Angeles County, there are approximately 175,000 economically-disadvantaged youth living with cancer, HIV/AIDS, diabetes, kidney disease, heart disease or other serious illnesses and most of these children do not have access to art and recreational activities.
Of the scholarships, CoachArt Outreach Director Kai Tramiel said, "Receiving these scholarships is a true gift. We will be able offer classes to 25 students currently on our waiting list. Our students can't wait to get cooking!"
Chef Eric's Culinary Camps offer a creative outlet to distract patients from the pain, therapies and isolation often associated with chronic illness and provides a sense of normalcy. Through the Culinary Arts, siblings and patients alike have increased confidence, hope, and self-esteem. "The best part about teaching the CoachArt Kids is their enthusiasm and courage in the face of adversity," says Chef Eric Crowley. "They inspire me every day and are a joy to teach. They like to eat, too!"
Chef Eric opens his doors to all Kids during the summer months as they learn to cook for themselves and their families. Children's Culinary Academies Level 1 through 4 are specifically designed for kids ages 7-15. Each Academy Session is 2 ½ hours a day – Monday through Thursday, in the morning or afternoon. The Academies start June 11th and run through August 26th. Tuition covers everything the Kids need – they don't have to bring anything to class. They take home their Recipes so they can cook and bake at home with their families. Last summer, over 200 kids learned from Chef Eric Crowley and his Culinary Team.
About Chef Eric's Culinary Academy
Since 1999, Chef Eric has taught professional and recreational cooking classes to thousands of students; first at a Los Angeles-based cooking school and since founding the Culinary Classroom in 2003. Many of his past students are successful Restaurant Owners, Chefs, Caterers, Personal Chefs and Home Chefs. His cooking, catering, and teaching career is studded with accolades from students, clients, and employers. His love of gourmet food, cooking, and teaching is apparent. For class information please visit
www.culinaryclassroom.com
or call 310-470-2640
About CoachArt
CoachArt's mission is to improve the quality of life for children with chronic and life-threatening illnesses and their siblings, by providing free lessons in the arts and athletics. CoachArt matches volunteer mentors with its students to provide lessons based on the child's preferred activity.
For the past ten years, CoachArt has served more than 2,500 children and in 2011 managed over 15,000 donated volunteer hours consisting of 665 volunteers, and more than 78 program partners. To find out how to become involved with CoachArt as a volunteer mentor, or to take part in the activities, please visit
www.CoachArt.org
or call 213-736-2850.
Contact
Chef Eric's Culinary Classroom
Jennie Crowley
310-470-2640
www.culinaryclassroom.com

Contact