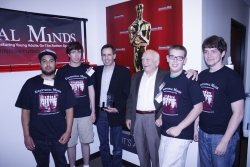 Sherman Oaks, CA, June 24, 2012 --(
PR.com
)-- As an estimated half-million autistic kids begin to come of age in the United States, the world is watching a group of producers, writers, actors and community leaders who gathered together Friday to address the next uncharted frontier in autism.
Few introductions were needed as they filled the small studio at Exceptional Minds, a nonprofit vocational school and working animation studio being lauded as one solution for young adults on the spectrum who have aged out of the system. Exceptional Minds is the brainchild of Hollywood visionaries and other leaders, many of whom gathered at the studio for an open house Friday, June 22, to mark Exceptional Minds' first successful year.
Among those present were Ed Asner, legendary actor and autism activist; Yudi Bennett, recipient of the Directors Guild Frank Capra lifetime achievement award and co-founder of Foothill Autism Alliance; Barbara Helfing, former principal of the Frostig Center for Educational Therapy; Cathee Weiss, who works for Hebrew Union College; Susan Zwerman, Grammy Award winner visual effects producer; Ron Burns, previously President of Global Business for J. Walter Thompson ad agency; Ivan Rosenberg, who has consulted for USC's School of Cinematic Arts Entertainment Technology Center; and Molly Burns Keith, previously Vice President of Christie's Jewelry, Los Angeles.
Most had met before, many times, and in many different scenarios as they each navigated the complex, often painful world of parenting or grandparenting a child on the autism spectrum. These are the founders of the grassroots organizations that anyone with an autistic child knows well, the very pioneers who started schools and raised funds for autism research. They had moved along the same trajectory of circumstances as their kids grew, solving problems as they arose and setting off a huge tidal wave of autism practices, research and services that benefit so many others today. Now, as their ASD children and grandchildren – and thousands of others like them across the country -- move into the adult world with limited social services and few job prospects, they are charting the next frontier in autism services.
"We owe a huge debt of gratitude to these people for their time, their dedication and most of all, their vision of Exceptional Minds and what this school and others like it mean to the future of those on the spectrum," said Exceptional Minds Program Director Ernie Merlan on Friday.
Exceptional Minds is the brainchild of these pioneers, who established the school in 2011 as a bridge between high school and the working world for ASD individuals. It is one of the first vocational schools and working studios to prepare visually-gifted young adults on the spectrum for employment. The three-year Exceptional Minds program includes technical training for Adobe (ACA) certification, job readiness skills and a professional reel/portfolio that graduates can use to seek employment in the fields of animation, computer graphics and visual affects.
"These students are excited about what they are doing here. Most of them would be on the computer anyway. We're just taking what they are already interested in and helping them make a career out of it," added Merlan.
As a working studio, Exceptional Minds students worked on three film projects in the past year, including closing credits for The Weinstein Company movie Lawless, which was accepted into the prestigious 2012 Cannes Film Festival competition.
With an impressive list of successes its first year, Exceptional Minds is being lauded as one example of how to integrate into society more than 500,000 ASD individuals about to come of age in the next decade. One in 88 children is diagnosed with autism today.
The school started with 11 students its first school year ending Friday and will expand to more than 15 students for the school year ending in 2013. In addition, Exceptional Minds offers summer workshops for high schoolers and others on the spectrum interested in developing short takes, animations and short video games.
About Exceptional Minds:
Exceptional Minds is a non-profit vocational center and working production studio for young adults on the autism spectrum. Chartered in 2011 to provide the training necessary for visually-gifted ASD individuals who may not otherwise be able to make the transition from high school to the working world, Exceptional Minds offers technical proficiency and work readiness skills that prepare students for careers in graphic arts, animation, web design, visual effects and rotoscoping.
Photo: Ed Asner, center, spoke encouraging words to the students of Exceptional Minds at the school's June 22 open house, at one point telling them he suffers from "Asner-ism" instead of autism.