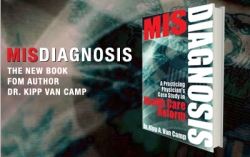 Topeka, KS, July 06, 2012 --(
PR.com
)-- The United State Supreme Court ruled the Patient Protection and Affordable Care Act (PPACA) constitutional on Thursday. Dr. Kipp Van Camp, an Interventional Radiologist and author of Misdiagnosis-A Practicing Physician's Case Study in Health Care Reform, is neither surprised nor enthusiastic about the high court's decision. "The Supreme Court, despite saying they would not get in the business of politics, did just that with this ruling. Americans have voiced over and over that they don't want it (PPACA)," said Van Camp.
Van Camp continued, "Politicians have stated unequivocally that the mandate is not a tax. And, as I predicted six months ago, the Court dove head first in to the political water and declared Section 5000A (the individual mandate) a tax." Specifics of what the ruling of PPACA as constitutional will mean for the average American remains unclear.
Until "Obamacare" is repealed, large companies, small businesses, hospitals and healthcare providers have to prepare for 2014 when the law is to be fully enacted. However, some provisions went into effect immediately after it was passed in 2010. "The only real solution is for Congress to repeal the entire PPACA, and start over with a reasonable and realistic health reform plan, that maintains its roots in the private sector, as the (U.S. Rep Paul) Ryan plan does. But, I doubt that this is the course of action we'll take, as it is way too logical and practical," Van Camp added.
"The PPACA is so focused on making sure everyone can access the system. But they haven't address the real problem of whether there will be physicians there to provide the care," said Van Camp. Dr. Van Camp added, "In 2009, the American Academy of Family Physicians (AAFP) predicted there would be a shortage of 40,000 primary care physicians over the next 10 years. That is a real problem. The American people are forced to swallow this unwanted health reform pill against their will. And because of all this, the patients (American citizens) are the real losers in the whole process."
Dr. Kipp Van Camp, a western Kansas native, is triple boarded in family medicine and radiology and has 25 years experience in medicine. He is also the host of the radio show, "Doctor's Orders." Author Misdiagnosis: A practicing physicians case study of health care reform, Dr. Kipp makes the topic of health care accessible to the average American. More information can be found at www.drkipp.com.