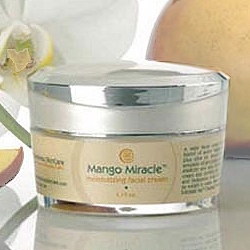 Palm Beach, FL, July 09, 2012 --(
PR.com
)-- Anti-aging skin care product manufacturer Mango Madness Skin Care, Inc. has announced an Aloe Vera and hyaluronic acid-based skin moisturizer sold under the brand name Mango Miracle™ as a soothing day moisturizer appropriate for sensitive skin.
In addition to natural Aloe Vera and hyaluronic acid, Mango Miracle™ is formulated with Shea butter, mango butter, olive oil and almond oil.
Moisturizers typically function using two different methods. Occlusive moisturizers create a thin layer on the surface of the skin to hold moisture in and prevent it from escaping and causing dry skin. Humectants work by absorbing moisture from the air for skin hydration.
"The benefit of Mango Miracle is that it contains both occlusive ingredients such as very light olive and almond oils to help retain moisture and a proven humectant, hyaluronic acid, which holds 1,000 times its weight in water, to add moisture to your skin," said Gary Myers, president of Mango Madness Skin Care. "The bonus is that the Aloe Vera makes the Mango Miracle an
ideal day moisturizer for people with sensitive skin
such as those with rosacea," Myers added.
Mango Madness skin creams, wrinkle reducers, and other skin care products are formulated to contain no parabens, sulfates, phthalates, BPA, or other harmful ingredients. They are gluten free. The company performs no animal testing and all ingredients and products are animal cruelty free.
Mango Madness Skin Care manufactures a comprehensive line of paraben free skin care products including hyaluronic acid creams and moisturizers, retinol and
peptide wrinkle creams and face creams
, a neck firming cream, day and night creams, glycolic acid, amber based and microdermabrasion type exfoliators, a Vitamin K dark circle eye cream, gentle skin cleansers, and a broad spectrum sunscreen.