CALLAHEAD Corporation Releases Explicit Details of Design and Operation of Portable Water and Sewer System They Invented Decades Ago for the Portable Sanitation Industry
CALLAHEAD Corp., an innovative portable sanitation company in New York City, reveals details about their proprietary Portable Water and Sewer System, which enables construction and office trailer users to have a complete bathroom operate inside their trailer, without the need for a sewer connection or running water.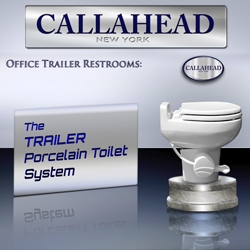 New York, NY, July 13, 2012 --(
PR.com
)-- CALLAHEAD has been the leader in developing new and revolutionary equipment for the portable sanitation industry since 1977. Influencing the portable toilet industry throughout New York and across the country, it is no secret that CALLAHEAD is the company all others attempt to emulate.
In 1986, Charles W. Howard, President and CEO of CALLAHEAD, invented a ground breaking system he named the
Portable Water and Sewer System
. This system has catapulted CALLAHEAD Corporation to the #1 company in the portable sanitation industry. Today, the Portable Water and Sewer System is by far the best system in the field. CALLAHEAD has now released the blueprints of this dynamic invention on their company's website for all to read.
Mr. Howard developed the Portable Water and Sewer System primarily for the construction industry. So a jobsite office trailer toilet would operate just like the average home's toilet bowl. Prior to the Portable Water and Sewer System, an office trailer without sewer or domestic water hook-ups operated with only a box beneath the toilet seat. Bathroom use inside an office trailer was highly unpleasant before Mr. Howard's invention.
The CALLAHEAD Portable Water and Sewer System is the most advanced system available. It is a system guaranteed to operate as if an office trailer's toilet bowl is connected to a domestic water and sewer line. CALLAHEAD's Porcelain Toilet System's offers customers an array of choices in porcelain toilet bowls to suit every preference and budget. No matter which Porcelain Toilet System you choose, you will never have to compromise on homelike toilet bowl comfort. When you have a CALLAHEAD porcelain toilet bowl connected to the Portable Water and Sewer System you acquire a home style bathroom in your office trailer like no other.
The Portable Water and Sewer System's flushing technology supplies over 50 lbs of water pressure. This is 10 lbs more water pressure than the average home's toilet bowl. The system also operates completely odor free no matter what time of year. The
CALLAHEAD designed winterization package
eliminates the worry of freeze ups during colder months so you never have interruption of service. All of this while still remaining completely mobile to wherever the jobsite office trailer needs to be.
Many have tried to duplicate this unparalleled system throughout the decades by hooking up pipes and holding tanks to a toilet bowl. However, no other system operates odor-free, without freeze-ups, has a flushing system that provides an astounding 50 pounds of water pressure all while being connected to a porcelain toilet bowl. CALLAHEAD's Portable Water and Sewer System is the only system of its kind that is guaranteed to operate as if it were connected to domestic water or sewer lines and gives you homelike comfort in porcelain toilet bowls.
It is Mr. Howard's relentless pursuit for continued progression of the portable sanitation industry that makes CALLAHEAD's system next to impossible to replicate. CALLAHEAD's Mission Statement, "To Develop and Evolve a Human Necessity" holds true with not only their Portable Water and Sewer System but all CALLAHEAD equipment and services.
CALLAHEAD has been providing service to the portable sanitation industry for nearly 40 years. Some of their revolutionary equipment include:
portable toilets
,
portable hand washing sinks
,
guard sheds and guard booths, portasheds and storage sheds
, commercial grade portable sinks, antiseptic dispensers, restroom trailers,
luxury restroom trailers
, holding tanks, porcelain toilet systems, portable water and sewer systems and fresh water delivery. For more information, visit
www.callahead.com
Contact
CALLAHEAD Portable Toilets
Korynn Bottone
800-634-2085
www.callahead.com

Contact