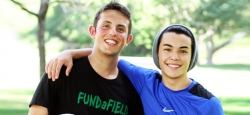 Los Angeles, CA, July 19, 2012 --(
PR.com
)--
www.chancetoplay.com
Teen celebs from Disney and Nickelodeon are teaming up to help disadvantaged youth at "Chance to Play 2012," a charity soccer game for FUNDaFIELD and Toy Box of Hope. Young actors, dancers, and YouTube stars are lacing up their soccer cleats and putting on their game face all for a very worthy cause; to help disadvantaged children around the world.
Chance to Play 2012 will be held at Cromwell Field at the University of Southern California on August 5, 2012. Doors open at 10 am, pre-game show begins at 11am, and the main event celebrity soccer game is scheduled to begin at 11:30 with a half time show and raffle during the intermission.
Guests will enjoy games, a charity raffle, food by Freebirds World Burritos and Chik Fil-A and warm up and half time entertainment by dance group Groov3 and other surprise guests. Advance tickets for individuals and groups are available online at www.chancetoplay2012.com. Tickets will also be available at the door the day of the event starting at 9am.
FUNDaFIELD founder Kyle Weiss, recently named "One of the 25 Most Important Young People in the World" by Youth Service America, says "Chance to Play 2012 is fun way to raise funds and awareness for charity, while staying true to our mission of providing children hope through the therapeutic healing power of play." Toy Box of Hope founder and star of Nickelodeon's hit new show Supah Ninjas said, "There is a natural fit between the charities' missions. We both work to bring hope and improve the lives of children."
All funds raised from the day's event will go to FUNDaFIELD to build new fields in Swaziland, the Congo and Haiti in the coming year, and to Toy Box of Hope to broaden the reach of children served and to support Covenant House programs.
Event hosts, comedians Stephen Kramer Glickman (Big Time Rush, Comedy Central) and Kirk Fox (How to Rock), will also step in as team coaches with DL Colgate providing music for the day's festivities. Confirmed player rosters include Caroline Sunshine (Shake It Up), Greer Grammer (Awkward), Brandon SooHoo (Ender's Game, Class Clown), Ashley Argota (Bucket and Skinner's Epic Adventures), Erin Sanders (Big Time Rush), Lulu Antariksa (How to Rock), Matt Bennett (Victorious) Lia Marie Johnson (Teens React), Ryan Potter (Supah Ninjas), Taylor Gray (Thunderstruck), Dillon Lane (Bucket and Skinner's Epic Adventures), Alex Wong (Smash), Daphne Blunt (Disney Radio), Sterling Beaumon (Clue), Gracie Dzienny (Supah Ninjas), Carlos Knight (Supah Ninjas), with many more still to confirm.
For more information, fundraising and volunteer opportunities, to purchase tickets or donate online, please visit www.chancetoplay2012.com
FUNDaFIELD is a non-profit 501(c)(3) organization, started by Kyle Weiss and his brother in 2006. Student-run FUNDaFIELD is dedicated to enriching the lives of less fortunate kids in the developing world through sports. FUNDaFIELD utilizes the therapeutic power of sports to support the rehabilitation and recovery process in post-conflict and post-trauma regions around the world. The team works with local communities to provide soccer fields, soccer equipment and to host soccer tournaments. School enrollment and attendance have both increased in the schools at which FUNDaFIELD builds fields.
Toy Box of Hope was founded by Ryan Potter, star of Nickelodeon's Supah Ninjas, to address the ever growing problem of youth homelessness in Los Angeles. Moved by the number of families he saw living on the streets of Los Angeles, Potter created Toy Box with the mission to bring children hope through simple positive acts of kindness, as well as increase awareness of and raise funds for organizations which are on the frontlines of positive change in the challenging field of youth homelessness.
Press Release Contact Information
Alex Jordan
Chance to Play 2012
mediarelations@chancetoplay2012
310-968-9474
www.chancetoplay2012.com