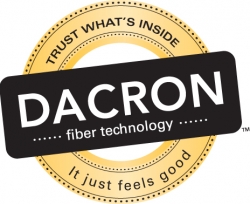 Kennesaw, GA, July 19, 2012 --(
PR.com
)-- INVISTA's Misti M. Moore has assumed the role of marketing manager for DACRON® fiberfill North America. Moore, who is based in the company's in Kennesaw, Ga., office, develops and leads marketing strategies to enhance the equity of the DACRON® brand while growing the market share of DACRON® branded fiberfill products in bedding.
"We're delighted to have seasoned executive Misti Moore on the DACRON® brand team," said Roberto Fontanillas, global business director for INVISTA's DACRON® fiberfill business. "She'll be working closely with the sales team to identify, pursue and cultivate new business development opportunities that harness the power of the established awareness and preference for the DACRON® brand."
The DACRON® brand, one of the leading home textile brands in consumer awareness studies, has been associated with superior bedding fiberfill for more than 50 years. With two-thirds of United States consumers surveyed indicating they are familiar with the DACRON® brand, the brand has one of the highest levels of consumer awareness among popular home furnishings brands.(1)
Moore worked in various marketing roles prior to this assignment. Most recently, she was marketing communication manager for INVISTA's STAINMASTER® brand, where she developed and implemented a national program that included print, internet, television and in-store merchandising. Moore joined INVISTA from Atlanta-based multi-cultural marketing agency IMAGES USA, and also held marketing positions with Blacksmith Promotions, DS Waters (where she led the repositioning of the Crystal Springs Water brand), AOL Time Warner and Anheuser Busch. Moore holds a B.A. in Communication and Media Studies from California State University – Sacramento and an M.B.A. from Clark Atlanta University in Georgia.
About INVISTA
INVISTA is one of the world's largest integrated producers of polymers and fibers, primarily for nylon, spandex and polyester applications. With a business presence in over 20 countries, INVISTA's global businesses deliver exceptional value for their customers through technology innovations, market insights and a powerful portfolio of global trademarks including: ADI-PURE®, ANTRON®, AVORA®, C12™, COMFOREL®, COOLMAX®, CORDURA®, CORFREE®, DACRON®, DBE®, DYTEK®, FRESHFX®, LYCRA®, PERFORMA™, POLARGUARD®, POLYSHIELD®, POLYCLEAR®, SOLARMAX®, STAINMASTER®, SUPPLEX®, SUPRIVA™, TACTEL®, TACTESSE®, TERATE®, TERATHANE® and THERMOLITE®. For more information, visit www.INVISTA.com.
(1) 2010 Online blind consumer research with nationally representative panel of U.S. home textiles decision makers. N=1041