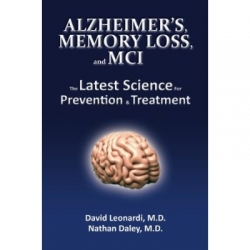 Denver, CO, July 24, 2012 --(
PR.com
)-- A new book provides a comprehensive, evidence-based treatment path that may be the answer for the 5.4 million Americans afflicted with Alzheimer's disease (AD). While there is yet no pharmaceutical magic bullet for this devastating, terminal disease, two leading integrative physicians have assembled a promising program that may, today, slow, arrest or even reverse AD.
Drs. David Leonardi and Nathan Daley of Denver, Colorado, specialists in Integrative Preventive Medicine have assembled 33 elements with proven efficacy against the root biochemistry underlying AD. Their six-step program is elucidated in their new book:
Alzheimer's, Memory Loss, and MCI: The Latest Science for Prevention and Treatment, available today on Amazon.com
.
Too improbable? Perhaps not. "Big Pharma is trying to come up with a single drug to cure a disease that is caused by unfavorable brain chemistry along 9 different avenues." explains Dr. Leonardi. "It's unlikely that a single compound can influence two avenues, let alone nine."
According to Dr. Daley, "Our research uncovered 33 elements all with documented, published efficacy against the biochemistry (all nine avenues) underlying AD. Yet, astoundingly, no one in history has ever assembled them into a comprehensive treatment. We believe that using all 33 will accomplish the goal of preventing, arresting and possibly reversing AD, depending on the duration and extent of the disease."
The 33 elements are integrative (multidisciplinary), involving a combination of lifestyle changes, nutritional supplements, bioidentical hormone replacement and medications, each element targeting specific brain chemistry. "This is an idea that is way overdue. The information has been under our noses for twenty years but never once implemented. We believe that the whole is greater than the sum of its parts," adds Leonardi.
"Many of the 33 elements directly target the two primary components of AD - beta amyloid plaque and neurofibrillary tangles - with the goal of reducing their formation and increasing their removal from the brain," Dr. Daley states. Simultaneously, other elements are protecting sensitive brain cells from the toxicity of those culprits and from related toxins - free radicals, advanced glycation endproducts and inflammation. It is the first comprehensive approach to this multifaceted disease. Every known pathway in AD is covered by several of the 33 components, each validated among the 284 citations from scientific journals, with each citation linked to a specific statement.
David Leonardi, M.D. is a world-renowned physician who has been a featured resource in two books by celebrity alternative medicine crusader, Suzanne Somers. He is a featured corporate speaker and has been a leader in vitality and longevity medicine since 1997. Nathan Daley, M.D. is a graduate of the University of Arizona Fellowship in Integrative Medicine and is board certified in both Preventive and Integrative Medicine.
The book has been endorsed by the prolific author, founder and director of the Arizona Center for Integrative Medicine - Andrew Weill, M.D., by Mimi Guarneri, M.D., FACC, Founder and Medical Director of the Scripps Center for Integrative Medicine, and by Dharma Singh Khalsa, M.D., President and Medical Director of the Alzheimer's Research and Prevention Foundation.
At the release of their innovative new book, Drs. Leonardi and Daley are currently enrolling Alzheimer's patients in a pilot clinical trial, and are hopeful that the results these patients get will be groundbreaking. Alternatively, Alzheimer's patients may use the program described in the book in conjunction with their own personal physician.
RAW Marketing
is currently scheduling our media interviews. Please contact RuthAnn Wiesner @ 815.410.9139 or ruthann@rawmrktg.com.