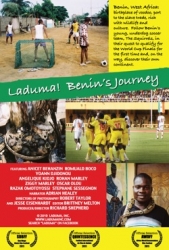 Los Angeles, CA, July 24, 2012 --(
PR.com
)-- "Laduma! Benin's Journey" documentary film premieres on August 12, 2012.
Laduma Inc. announces that its documentary feature film "Laduma! Benin's Journey" will premiere on Fox Soccer channel on Sunday August 12 at 7 p.m. ET (4 p.m. PT). Fox Soccer is the preeminent channel for the sport, and broadcasts to US, Canadian, and Caribbean audiences. The film also will air on Fox Soccer Plus on Tuesday August 14 at 8 p.m. ET and encore on Fox Soccer channel on Saturday August 18 at 9 p.m. ET.
Directed and produced by Richard Shepherd, this independent documentary film follows the young, underdog national soccer team (The Squirrels) from Benin, West Africa, in their quest to qualify for the World Cup Finals for the first time. On the way, they discover their own continent and a pan-African understanding. It is an exciting journey of hope and heartache, adventure and triumph.
After visiting Benin in 2007, Shepherd decided to follow the unknown team from this lesser known West African nation in their quest to reach the 2010 World Cup in South Africa. While Shepherd initially feared the journey could be over after a couple of games, the team started winning and kept winning; and the director kept returning to Benin for three years – forging close friendships with the team during their travels across Africa, and enjoying intimate access to the players, their personal and professional growth, and their enthusiasm for soccer and for their continent.
Benin is the birthplace of voodoo and the original port to the slave trade, as well as being rich with wildlife and culture. It provides a fascinating backdrop to the thrilling games played by The Squirrels. The film follows the team to other countries including Ghana, Mali, Niger, and Uganda.
The film features Benin players, including rising star in the English Premier League, Stéphane Sessègnon, who currently plays for Sunderland; goal machine Razak Omotoyossi, whose turbulent career changes with the birth of twin daughters; goalkeeper Yoann Djidonou, who runs a youth soccer camp in an effort to uplift the children of Benin; midfielder Oscar Olou, who left his family in the war-torn Ivory Coast to play in Benin; and charismatic bilingual, biracial defender Romuald Boco. The documentary also explores pan-Africanism in interviews with Benin-born singer-songwriter/humanitarian Angélique Kidjo, musician/philanthropist Ziggy Marley, and entrepreneur/philanthropist Rohan Marley. ESPN's lead Major League Soccer commentator Adrian Healey narrates, and music on the soundtrack comes from Angélique Kidjo, Ziggy Marley, and Beninese rap group Ardiess.
Edited by Brittney Melton and shot by cinematographers Robert Taylor and Jesse Eisenhardt, the film captures the color and character of the African continent, the thrilling game of soccer, and the dynamic and athletic cast of the film.
"Laduma! Benin's Journey" has played at festivals from Cameroon to California, including the San Diego Black Film Festival, the Africa World Documentary Film festival, and the Quintessence Film Festival. The film and Shepherd have been featured on talk shows on Fox Soccer Channel and World Football Daily.
A 96 minute director's cut of "Laduma! Benin's Journey" is now available on Amazon Instant Video, and also on DVD at www.ladumainc.com or Amazon DVD.
This is the first film from writer-producer Richard Shepherd's documentary production company, Laduma Inc., whose upcoming works include a documentary series "This is Africa" and a project for the 2014 World Cup in Brazil.
For more information, please visit the website www.ladumainc.com or contact richard@ladumainc.com. Follow "Laduma" on Facebook.