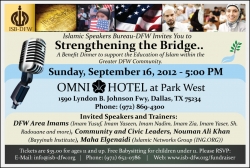 Dallas, TX, July 24, 2012 --(
PR.com
)-- Islamic Speakers Bureau-DFW is all set to host its first ever benefit dinner on September 16th, 2012 (5 PM) at the Omni Hotel, Park West. The theme of the benefit dinner is "Strengthening the Bridge" and the event is unique in a number of ways. ISB-DFW is emphasizing the significance of this timing and the context of the event, by making it the focal point of its campaign to support the education of Islam and to build bridges of understanding between Americans of all faiths.
An impressive array of speakers will assemble to hold groundbreaking discussions. The speakers include prominent religious & community leaders, researchers, columnists and authors. This event also provides the perfect platform for those concerned about the rise of Islamophobia and the repercussions this holds for secular democracies such as the United States.
Ever since its inception, ISB-DFW has reached out to thousands of Americans utilizing scholarly developed and time-tested materials to present on a variety of topics related to Islam and Muslims in schools, colleges and universities, law enforcement agencies, corporations, healthcare facilities, faith-based and community organizations.
ISB-DFW invites you to its first benefit dinner to support the expansion of its work across the DFW area.
What: ISB-DFW Benefit Dinner
When: Sunday, September 16 2012 (5:00 PM)
Where: Omni Hotel (Park West), 1590 LBJ Freeway, Dallas, TX | 972-869-4300
Invited Speakers & Trainers:
DFW Area Imams (Imam Yusuf, Imam Yaseen, Imam Abdul-Nasir, Imam Nadim, Imam Zia, Imam Yaser, Sh. Radouane and more), Community and Civic Leaders, Nouman Ali Khan (Bayyinah Institute), Maha Elgenaidi (Founder and Executive Director, Islamic Networks Group (ING.ORG))
Contact:
Phone: (972) 652-0786 | Web: www.isb-dfw.org/register
Tickets are $35 (Ages 11 and Up, Dinner Included, Free Babysitting)