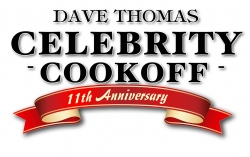 Troy, MI, July 26, 2012 --(
PR.com
)-- The Cook-off has two seatings: the first begins at 6 p.m. and the last at 8 p.m. Nearly 60 celebrity chefs will be attending, including: local and national executives, media personalities and civic leaders. There will be live entertainment by Cheri Oliver, jazz and R&B singer who has been featured on the Fox 2 Morning Show, Michigan Chronicle, and was nominated for the Detroit Black Music Award 2009 and 2011; and Elijah Connor, R&B singer who most recently toured and shared the stage with Robin Thicke, Faith Evans, Avant, J. Holiday, Kelis, Ruben Studdard, Mario Winans, Fantasia, Michelle Williams, and Lyfe Jennings and was seen on Donald Trumpp's reality show, "The Ultimate Merger." There will be a silent auction where guests will have the opportunity of bidding on auction items such as get-away packages, autographed sports paraphernalia and much more. One-of-a-kind aprons worn by the celebrity chefs and designed by the children Spaulding for Children serve, as well as volunteers, will also be up for auction at the tables. There will be a 50/50 raffle and other planned activities.
Individual and corporate sponsorships are available. Tickets for the event are $100 per person or $1,750 for a corporate table of 10. Sponsors for this year's event include: Wendy's International, The Dave Thomas Foundation for Adoption, Benihana, Health Alliance Plan (HAP), MGM Grand Detroit, The Detroit News, The Bartech Group and The Detroit Media Partnership.
The Southfield based nonprofit is a national leader in placing adoptive and foster care children with permanent families. The annual cook-off raises funds to assist in the needs of the more than 500 children and families it serves every year. "The Cook-off helps us raise desperately needed funds so that we may continue to find permanent homes for waiting children," said Spaulding President and CEO, Addie Williams. "It also provides a wonderful opportunity to be 'served' by some of our very own celebrities. We appreciate the support of corporate sponsors and individuals that have helped make this unique fundraising event a success for more than 10 years," Williams added.
Proceeds will directly benefit the private, non-profit child welfare agency's mission of finding permanent homes for children in the foster care system. For further information or to reserve your spot, contact: Cheryl Gist at cgist@spaulding.org or call (248) 443-7080. Spaulding for Children is located at 16250 Northland Drive, in Southfield, MI 48075, is a nonprofit organization that "Assures that all children grow up in safe, permanent families and have the help they need to be successful in life." (248) 443-7080, www.spaulding.org