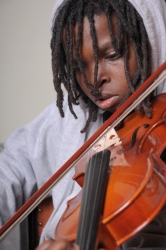 Philadelphia, PA, July 30, 2012 --(
PR.com
)-- The groundbreaking photographic exhibit By the Content of My Character: Portraits of African-American Young Men will open on August 3, 2012 at the Hamid Gallerie (115 New Street, Glenside, PA 19038) and run through August 27, 2012. A concept of Philadelphia-based art teacher and photographer Denise Allen, in the wake of the racially-charged murder of Trayvon Martin, this powerful exhibit highlights young African-American males in a positive light, displaying their character and uniqueness through a series of photos. Moreover, the photos displayed in the exhibit boldly challenge the irrationality of the stigma associated with young African-American males and/or their choices of clothing.
Fueled by Trayvon Martin's heart wrenching murder, like scores of others, Denise Allen was overcome by a mix of emotions ranging from sadness and disbelief to anger and rage. After learning about the circumstances behind the death of Trayvon Martin, Allen says emotionally, "I realized that it could have been my son or one of his friends and that in addition to providing my son with top-notch education and exposure to the right experiences, I had to place him within a support system that could address how African-American men deal with injustice and racism." Not only is Allen setting out for the exhibit to feature positive images, she says, "I also hope this exhibit will evoke conversations among African-American families regarding the alternatives and opportunities a Black man has at his disposal when facing struggles."
By the Content of My Character: Portraits of African-American Young Men features photographs of twenty young African-American men, who like Trayvon, are in the prime of their lives with a bright future ahead of them. Each young man appears in a hoody, set in an environment, which rings true to their individual strength and uniqueness. Accompanying the 16x20 prints is language that spotlights the character of the young men and describes them in their own words. No longer can Americans be quiet during such serious times. Action is a must and Allen's offering is creatively manifested through this visual documentation. By the Content of My Character is Allen's chance to help enlighten the masses and deprogram popular stereo-types and beliefs that malign Black males.
The opening reception for By the Content of My Character: Portraits of African Americn Young Men will take place on Friday, August 3, 2012, 6-9 pm. Members of the public and/or media interested in attending should contact Acclaim PR. The exhibit is free for the public to attend. However, donations are welcome. The Hamid Gallerie is open to the public Monday-Friday, 11am-6pm. Following the August 3-27, 2012 display at Hamid Gallerie, the exhibit will run at Starbucks (746 Old York Road, Jenkintown, PA 19046), September 8 - October 6, 2012.
Denise Allen is an art teacher and photographer, who has been taking pictures professionally and working with children for most of her adult life. Her journey into photography started at the mere age of 12. Her only wish for high school graduation was a 35mm camera and upon receipt, her life changed forever. Allen believes that photography allows one to capture the true essence of a person or event and thus far, her experience includes catalogue work, editorial, fashion, weddings, special events and portrait photography. Allen has a B.A. in Photography/Fine Arts and a Masters in Art Education. Weaving these passions, Allen frequently develops photography workshops for children.
Hamid Gallerie is one of the largest exhibitors and dealers of international art in the Greater Philadelphia region. Nestled in the Philadelphia suburb of Glenside, Hamid Gallerie's two-fold mission is to provide art enthusiasts with the opportunity to tour their gallery, enjoy their exhibits, and acquire new works for their own collections and to offer artists a venue to exhibit their work. Over the last 18 years, Hamid Gallerie has grown to be one of the largest collectors and distributors of indigenous African and contemporary art in the Greater Philadelphia region. In August 2011, Hamid Gallerie relocated to its present location of 115 New Street, a 10,000 sq. ft. pristine gallery blocks away from its old location and a 5 minute walk away from the SEPTA Regional Rail train station.