Revolutionary Israeli Toilet Gets Gates Foundation Grant for $ 110K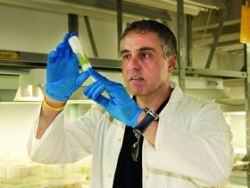 Ramat Gan, Israel, July 29, 2012 --(
PR.com
)-- Earmarked for homes in developing nations, the device needs no water and generates its own power to turn waste into sterile, odor free compost.
An Israeli-invented toilet that needs no water and leaves no waste caught the interest of the Bill & Melinda Gates Foundation, which awarded parent company Paulee CleanTec $110,000 "to create next generation sanitation technology to help make sanitation services truly safe and sustainable for the poor."
"We are one of only very, very few Israeli companies that have received any grants from this foundation," points out Oded Halperin, one of the company's original founders & investors.
The toilet is based on the same principle as the high-tech pooper-scooper featured on ISRAEL21c last October.
Invented by renowned Hebrew University biotech innovator Prof. Oded Shoseyov based on an idea Halperin thought up, the device gathers droppings and turns them into odor free, sterile powder within seconds after the dog-walker pushes a button to release an activation capsule from the cartridge inside the unit. The resulting powder is a fertile composting material.
Earmarked for developing countries by the Gates Foundation, the toilet will go a step further.
No water or electricity needed
"For the solid waste, which also can include toilet paper, we are mixing it with our chemical formula for not more than 30 seconds and it will turn immediately into odor free, sterile fertilizer," Halperin tells ISRAEL21c. "The fertilizer will be automatically dropped into a removable canister where it can be collected from time to time and then be used for field and/or home crops."
The liquid waste will be sterilized separately in another reservoir, and then pumped up (with a small aquarium pump) to flush the toilet – powered by heat energy created from the solid-waste process and stored in a small battery. According to the still-secret drawings of the patent-pending device, the internally created heat would even power a LED light inside the stall.
"Just to back up the energy source, we will also use a small solar panel on the roof," says Halperin. "There's no need for any sewerage or electricity infrastructures or connections. No need for water to flush. No special maintenance — the chemicals can be put in its dispenser once a month and the cost of one use is only a few cents."
"Reinvent the Toilet Challenge"
These features are a good fit for the Bill & Melinda Gates Foundation's "Reinvent the Toilet Challenge," which aims to improve on the limitations of the 18th-century toilet still in use today, for 2.6 billion people lacking access to sanitation.
According to the foundation, reinventing the toilet could save millions of lives and help end poverty. About 80 percent of human waste goes into rivers and streams untreated, and 1.1 billion people don't use a toilet.
The winning solution must be hygienic and sustainable, with an operational cost of no more than five cents per user, per day. It may not discharge pollutants and must generate energy and recover salt, water and other nutrients. It may not rely on water to flush waste or a septic system to process and store waste.
The one-year Gates grant is first-phase funding. If the foundation likes what it sees, Paulee CleanTec will then submit a second proposal for a $1 million or $1.5 million grant to complete development and build a prototype.
Meanwhile, Paulee CleanTec signed a deal with a major international player in the pet market, which will allow for the development of different kinds of devices for collecting and disposing of dog and cat droppings based on the existing patent which was already allowed in the USA & Europe.
In addition, the Ramat Gan-based company is considering opportunities for raising funds from private and strategic investors as it looks to widen its potential applications to hygienic solutions for portable toilets, trains, airplanes, boats, yachts, motor homes and other modes of transportation.
Contact
Paulee CleanTec
Moshe Hibel
97235631323
www/ashpoopie.com

Contact