Anti-Abortion Group Targets the Iowa State Fair with Display of Large, Bloody Photos of Aborted Babies
Abortion billboard trucks hit the streets of Des Moines in a campaign to bring a powerful pro-life message to Iowa voters in advance of the November 6 elections.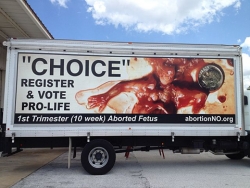 Des Moines, IA, August 12, 2012 --(
PR.com
)-- "The Center for Bio-Ethical Reform (CBR) will drive large box trucks bearing graphic images of first-trimester aborted babies on the public streets near the Iowa State Fair in Des Moines from Friday August 10 to Sunday August 19 in an effort to educate voters about preborn children and what abortion does to them. The operation of these trucks in Des Moines is part of a larger campaign by CBR in several election battleground states to urge voters to think about abortion as they make decisions regarding which political candidates they will support. While the media often characterizes anti-abortion candidates as 'extreme' and pro-abortion candidates as 'moderate,' CBR's billboard trucks show that abortion is an act of violence that kills a baby and that, therefore, it is not opposition to abortion but rather support for abortion that constitutes the extreme position," said Dr. Kevin Olivier, Logistics Coordinator at the Center for Bio-Ethical Reform.
For more information contact Gregg Cunningham, Executive Director of the Center for Bio-Ethical Reform, at cbr@cbrinfo.org or visit www.AbortionNo.org.
For interviews contact Jason Walsh at 602-478-4446.
Contact
The Center for Bio-Ethical Reform
Jason Walsh
602-478-4446
www.AbortionNo.org

Contact