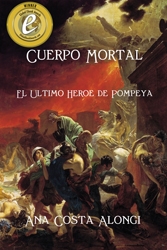 Mountain View, CA, August 25, 2012 --(
PR.com
)-- The book Cuerpo Mortal (Mortal Flesh), Spanish edition, wins Best Classic Fantasy Book 2012 at the Global eBook Award and also received an honorable mention in the category of Romance -Historical- Fiction. The awards were presented at the prestigious Global eBook Awards Ceremony in Santa Barbara on Saturday, the 18th of August. The book is available at
Amazon.com.
Cuerpo Mortal's plot takes place in the ancient Roman Empire. The setting is in the city of Pompeii, known for its destruction under tons of lava and ash in 79 A.D. The story starts three months before this tragedy occurs, and then the countdown begins.
The narrative pulls the characters down a road where not everyone is whom he appears to be. The tension increases with each secret that is unveiled thru this page-turner with unpredictable developments.
Book Description: Marcus, a 19-year-old young man, is oblivious of everything and enjoying the beach with his friends. He is a member of an influential family and ever since he was born his destiny had been to have a prominent political career in the Roman Senate.
A forbidden love falls across the path that Marcus' parents had laid for him, challenging everything he had been taught to believe about his future.
His struggle between fulfilling his destiny and this unexpected love takes him on a journey where he will discover his true divine nature and the power of an immortal soul.
Reviews: According to VANIDADES magazine: "What begins as a historical narrative becomes an adventure where fantasy and spirituality go hand in hand. The plot moves with fluidity and tension, with characters that deliver unexpected surprises. This is the first part of Marcus's story, and the continuation is being announced." (Issue 4, 2012, page 30)
About the author: Mrs. A. C. Alongi has worked during the last 20 years in the U.S., Argentina, Mexico and Venezuela as an educator and counselor.
She believes that "imagination is the essence of creation and through both we build the future and a better civilization."
Ana is working on a second novel in what she calls the Cuerpo Mortal saga.
The Award: The Global Ebook Awards honor and bring attention to the future of book publishing: Ebooks. Now in its second year, the Awards are in 72 specific categories. They are open to all publishers large and small.
The second annual Global eBook awards were presented with Marilu Henner, author and actor, known for her TV role in Taxi and her books that include By All Means, entre otros. Bill Frank, a popular talk show host was the MC for the event and Jim Cox of MidWest Reviews was in attendance. Dan Poynter, well-known author, publisher, consultant and professional speaker with over 125 books to his credit, hosted the award ceremony held in Santa Barbara, California.
Books submitted to the Global eBook Awards are reviewed and must pass certain criteria before being included. Over 200 judges from around the world participated in judging this year's winners. A list of the finalists and award winners is available on Dan Poynter's website.
Ordering information:
Sigillum Publishers, phone 408 636 6795
Cuerpo Mortal, paperback, Spanish edition $ 18.31
eBook $ 6.99
Available at: www.amazon.com
www.thebookcity.com
www.barnesandnoble.com
www.alibris.com