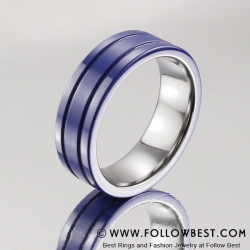 New York, NY, September 05, 2012 --(
PR.com
)-- Followbest.com is a reliable online fashion jewelry store which offers the finest collection of
men's rings
, tungsten carbide rings, ceramic rings and other metal jewelry catering to contemporary men. Robin Lee, the CEO and founder of followbest.com said, he's proud to offer the finest jewelry to our male counterparts. He himself is a fashion enthusiastic and owns a company in the line in which he excels - fashion jewelry. "Followbest.com is specially founded to cater to men's needs. Our goal is to become the premiere online store for men's jewelry like rings, watches, necklaces, bracelets, cuff links, especially tungsten carbide bands, ceramic rings & watches," he added.
Tungsten carbide rings and ceramic rings are two new great options for men who want update modern jewelry beyond traditional choices. Tungsten carbide rings are quickly gaining popularity among modern men due to their incredible features like extreme hardness (only next to diamonds), durability, high resistance to scratch and wear. High-tech Ceramic rings are not as hard as tungsten carbide bands; but they are also scratch resistant, environmentally friendly, hypo-allergenic and very comfortable to wear. Ceramic rings come in more colors and styles and also can be purchased by women.
Followbest offers hundreds of styles of tungsten and ceramic rings with incredible quality and great price. You'll definitely find one style that you are fond of. Besides rings, customers can also find other men's jewelry at http://www.followbest.com, from necklaces to cuff links, from titanium to stainless steel, and more.
Followbest also offers a customized engraving service to their customers. "With state of the art engraving machine and a team of skilled technicians, we can also offer customized engraving service, which not all companies can do. Isn't it a good idea to have your name and that of your beloved to be engraved in your wedding rings?" said Robin Lee
"Traditionally, fashion jewelry favors women who have tremendous choices. But we are going to build a comprehensive online fashion jewelry website that especially caters to modern men. We'll continue to provide more styles and more options for our men with quite reasonable prices and they will find whatever jewelry they want at our website," Robin Lee said," That's our ultimate goal."
Let's keep our fingers crossed that Robin Lee, a young and aspirational entrepreneur, will fulfill his dream earlier and his business grow bigger and bigger.