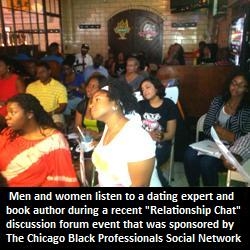 Chicago, IL, September 04, 2012 --(
PR.com
)-- Hill Harper, an African-American actor who plays the intelligent and articulate "Dr. Sheldon Hawkes" on the CBS drama, "CSI:NY," is also a New York Times bestselling author. One of Harper's books is entitled, "The Conversation: How Black Men and Women Can Build Loving, Trusting Relationships." On the back cover of the book, Harper says, "The walls between men and women do not serve us. I encourage men and women to start talking again. Real, intimate, and brave conversations are necessary to truly create the bridges that connect our hearts and lead to meaningful, long-lasting relationships."
Alan Roger Currie, author of "Mode One: Let the Women Know What You're REALLY Thinking," has interviewed Harper twice on his popular talk radio podcast program, "Upfront & Straightforward with Alan Roger Currie," which is the most listened to talk radio podcast program on the BlogTalkRadio Internet Radio Network in the category of Love and Romance.
"I agree with Brother Harper's attitude regarding single men and single women engaging in more real, thought-provoking conversations with one another. This is the only way that we will truly arrive at an understanding of why members of each gender do the things they do and say the things they say as it relates to dating and relationships," said Currie, who was born and raised in Gary, Indiana, and has had his advice featured in Essence magazine, a popular magazine for African-American women.
Currie added, "I am not bothered if a woman does not 'like' every aspect of my behavior toward women, or does not agree with everything I do or say, but at minimum, I would like her to understand where I am coming from. I always want to end a conversation with a woman knowing that I expressed my romantic and/or sexual desires, interests, and intentions to her in a crystal-clear, upfront, and straightforwardly honest manner."
A number of different groups and organizations in many of the major cities across the country have sponsored 'Relationship Chats', and some have become so popular that they are held on a monthly basis.
For example, in Cincinnati, Ohio, Brooke Alexandria has been the Chief Organizer of a Meetup.com group entitled, "The Truth about Relationships: A Relationship Chat" since October 2010. Alexandria's meetup group invites men and women to meet monthly to engage in interesting, informative, and entertaining discourse about the challenges of finding a romantic partner or the emotional ups and downs of maintaining a long-term monogamous relationship or marriage.
On Saturday, September 1, 2012, Currie and Henri Boylan, an Event Organizer for a Chicago-based meetup group known as "The Chicago Black Professionals Social Network," sponsored a similar event entitled, "Love & Sex in the 21st Century: A Relationship Chat" that featured three guest speakers and book authors: Currie, Ami A. Moore of JustAskAmi.com, and GeVonna Fassett, author of "Busted: Cyberstyle ... An Undercover Approach to Online Dating."
Subsequent to the presentations by the three speakers, Currie and Boylan then acted as moderators for a "Question & Answer" session and open forum discussion that at times was lighthearted, informative, and entertaining, but at other times the questions and responses by those in attendance led to debates that were provocative, argumentative, and even momentarily tense. According to Currie, the latter is okay.
"The objective of a Relationship Chat is not to necessarily get everyone to like and agree with each and every one of your opinions. The idea is to create an environment where men and women can ask questions and/or respond to questions and opinions expressed by others in an uncensored, unapologetic manner. You want both the men and the women to openly discuss the various challenges they may be experiencing in today's dating scene, what frustrations they may currently have with members of the opposite sex, or what advice they may have for others who recently experienced a scenario that they themselves experienced weeks, months, or years ago. I thought Saturday's Relationship Chat was a success, and judging by the high number of five star ratings on the meetup group's website, I think we should sponsor many more in the future," said Currie, who believes that dishonesty and manipulative "head games" are the two biggest culprits that cause animosity between men and women.
Books by Alan Roger Currie, Hill Harper, or GeVonna Fassett can be found on Amazon.com and BarnesAndNoble.com; Also, more information about Currie can be found by visiting http://www.modeone.net
More information about Relationship and Life Choices Coach Ami A. Moore can be found on JustAskAmi.com
The Chicago Black Professional Social Network can be found by visiting Meetup.com or http://www.meetup.com/312BlackProfessionals/