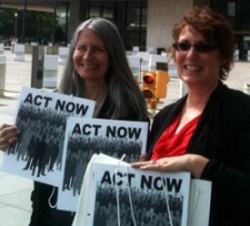 Grand Rapids, MI, September 06, 2012 --(
PR.com
)-- The headquarters for the national NeuroEndocrineImmune patient advocacy organization, PANDORA, is now in Wyoming, Michigan, just outside of Grand Rapids. The merging of Patient Alliance for NeuroEndocrineImmune Disorders Organization for Research and Advocacy Inc. with CFS Solutions of West Michigan was completed on Sept. 1 when the Florida-based organization closed and CFS Solutions of West Michigan received most of PANDORA's proprietary assets and trademarks. In the process CFS Solutions of West Michigan changed its name to PANDORA.
The new PANDORA will continue to sponsor the Self-help Education classes in Muskegon and Grand Rapids and the Care and Share meetings in Byron Center. The next event for local patients will be the Sept. 11 Stroll through Frederik Meijer Gardens and Sculpture Park, where patients in wheel chairs will come out of the isolation of their sickbed and enjoy the garden flora. PANDORA is now recruiting volunteers for this event.
NeuroEndocrineImmune disorders (NEIDs) include chronic fatigue syndrome – also referred to as myalgic encephalomyelitis or ME/CFS, fibromyalgia, chronic Lyme disease, Gulf War illness and multiple chemical sensitivities. These diseases leave patients very debilitated. In the most severe and chronic cases, NEIDs can lead to complications that cause premature death. These patients remain underserved in Michigan, in the nation and around the globe because of the disparity in research funding and poor access to knowledgeable medical care.
"PANDORA's name is well-known for improving patient quality of life through advocacy, education and direct assistance," said Michigan's Lori Chapo-Kroger, the new PANDORA president and director. "I plan to continue that tradition."
PANDORA now has a new set of officers, directors and volunteers, which are a combination of former PANDORA personnel and CFS Solutions of West Michigan personnel. For years, both PANDORA and CFS Solutions of West Michigan have sent representatives to the congressionally mandated CFS Advisory Committee in Washington D.C. Both organizations envisioned creating centers for specialized care for NEIDs patients, because these conditions overlap, have similar symptoms and involve similar pathophysiologies. With the retirement of PANDORA's founder, the work to reach the mutual goals will continue through this merger.
"As I say my final good-byes to PANDORA, I am excited that a new, young and vibrant team is in place, ready to address the issues affecting the quality of life of individuals with NEI diseases," said PANDORA founder Marly Silverman. "I believe our organization will fill a need in Michigan and will continue to fill its niche nationally, by creating awareness and promoting change that leads to permanent and viable solutions and restoring quality of life to those stricken with NEI diseases. I congratulate Lori Chapo-Kroger as the new president of PANDORA, and I wish her continued success."
One of the most notable PANDORA accomplishments is the creation of the Advocates ExtraordinaireTM program, which has trained over 350 patients and their families to be their own advocates to government officials and the news media. Other accomplishments include sponsoring the 2007 International Association of CFS/ME medical and patient conference; being the first organization within the NEI Community to win a $20,000 grant in Chase Community Giving ; and winning a $5,000 grant in Citgo Fueling Good. PANDORA is a charter and founding member organization of the Coalition for ME/CFS and the Coalition for Fibromyalgia. In 2009 and in 2010, PANDORA was the lead organization along with LifeLyme Inc. that worked with the New Jersey Assembly and the New Jersey Senate to pass a standing resolution for a NEI Center for research and expert clinical care for these patients.
The new Patient Alliance for NeuroEndocrineImmune Disorders Organization for Research and Advocacy Inc. (PANDORA), now based in Wyoming, Mich., will operate under the names of "PANDORA" and "CFS Solutions."