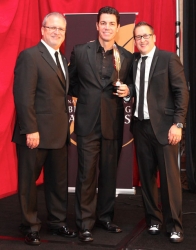 Rancho Santa Margarita, CA, October 02, 2012 --(
PR.com
)-- In a story with a very happy ending, author, fitness expert and personal development guru John Spencer Ellis recently received a Quilly Award for his book "The Wellness Code" from the National Academy of Best-selling Authors. At the academy's third annual Best-Sellers' Summit and Awards Gala, Ellis was honored in true Hollywood style for contributing "to education, enlightenment and the advancement of business" through "The Wellness Code," a book of expert advice on fitness, nutrition and lifestyle published earlier this year.
"The Wellness Code: Your Ultimate Guide to Health, Fitness and Nutrition" was compiled by a select group of the world's leading health and fitness experts and offers tips, tools and secrets for better health, fitness and wellness. The book can be purchased at Amazon.
"As an author and business owner, I couldn't have been more thrilled to receive this honor and to accept my Quilly Award," said Ellis, founder of John Spencer Ellis Enterprises, a personal development and fitness solutions company. "For the past 20 years, I have been incredibly passionate about offering health and wellness solutions to people around the world, and I believe that 'The Wellness Code' can truly help people live healthier, better lives."
The Quilly Awards, which provide a 12-inch commemorative gold statue crafted by the same artisans who sculpt the Oscars and Emmy Awards, were founded by the National Academy of Best-Selling Authors to commemorate an author's achievement of being named to a nationally recognized best-seller list. The awards are exclusively distributed at the Academy's Annual Golden Gala in Hollywood.
This year's Sept. 26-28 event at the Hollywood Roosevelt Hotel also honored Jack Canfield, named "Publishing Phenomenon of the Decade" by Time magazine, with a Lifetime Achievement Award.
"The Wellness Code" discusses topics including diet and exercise, nutrition, physical and mental health, careers, healthy habits and more. It was published by CelebrityPress, a leading fitness and health book publishing company.
About John Spencer Ellis Enterprises
John Spencer Ellis Enterprises is a solutions provider for fitness and coaching professionals around the world, providing education, turn-key business programs, coaching and resources for new and advanced fitness and coaching professionals. For more information about John Spencer Ellis Enterprises or "The Wellness Code," please visit
http://johnspencerellis.com/