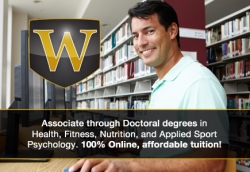 Rancho Santa Margarita, CA, September 18, 2012 --(
PR.com
)-- Bringing his unique science and fitness background together for online college students at Wexford University, Dr. Charles Foltz was recently named professor and will teach courses including biochemistry, advanced exercise physiology and more with a focus on health and fitness education. Wexford University offers a variety of online associates through doctoral degrees in health, fitness, exercise and nutrition.
With a master's of Public Health in Epidemiology and doctorate in Interdisciplinary Molecular and Cellular Biology from Tulane University and a bachelor's degree in Molecular Neuroscience from the University of California at Santa Barbara, Foltz is currently vice president of Research and Development at eHealth Screenings and senior project officer at Hip Hop Public Health. He is also the creator of 360 Cardio and has partnered with Polar heart rate monitors, the National Exercise and Sports Trainers Association (NESTA) and Total Health Interactive (THI). In addition, Foltz is a strength and conditioning coach and professional triathlon coach and manager. At Wexford University online, Foltz will teach subjects such as Biochemistry and Advanced Exercise Physiology with a focus on health and fitness for both local and international students.
"Charles will offer Wexford's online students the perfect combination of science and real-world health and fitness experience and knowledge," said Jack Bauerle, Chancellor of Wexford University. "He has worked with health and fitness organizations and individuals across the world, and we're very pleased that he's bringing that wealth of wellness knowledge to Wexford's local and international students."
In addition, Foltz has earned certifications from the National Strength and Conditioning Association as a Certified Strength and Conditioning Coach and the National Academy of Sports Medicine as a Certified Performance Enhancement Specialist, a Certified Corrective Exercise Specialist and a Certified Personal Trainer.
Wexford University offers degree programs including an associate of arts degree in Fitness Training, a bachelor of science degree in Health and Fitness, a master of science degree in Nutrition and Exercise, a master of arts in Applied Sports Psychology and a doctorate degree in Applied Sports Psychology.
Wexford University is dedicated to providing world-class education through cutting-edge technology, offering direct application degree programs in an accelerated format with 100 percent online learning to save time and money. Programs include an associate of arts degree in Fitness Training, bachelor's degree in Health and Fitness, master's degree in Nutrition and Exercise as well as master's degree and doctorate degree in Applied Sport Psychology. Wexford University is the higher education division of NESTA (National Exercise & Sports Trainers Association). For more information, please visit
http://wexford.edu/
.