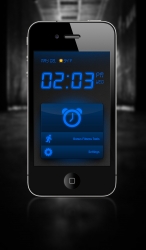 New York, NY, October 10, 2012 --(
PR.com
)-- Mobile Life Technology, Inc., creator of the first motion sensitive workout alarm clock app, announced today that it has released its Fitness Alarm Clock iT to the public. The app gets users up, out of bed, and moving with its built-in, customizable exercise routines and iTimer interval timer.
Fitness Alarm Clock iT has a number of features to keep the user going including: a motion sensitive alert that sounds when motion ceases, user-set workout music, and the option to perform another round of the routine upon completion. Users can also share their completed workouts on Facebook and Twitter.
"We wanted to create an alarm clock that literally gets the user out of bed. The Fitness Alarm Clock iT tackles two challenges difficult for many people, waking up, and working out," said co-creator Catie Molinaro. "Even a short period of exercise, 5-10 minutes in the morning, can definitely get a person on the right track to achieving their fitness and weight loss goals."
Fitness Alarm Clock iT also has a few bonus workout features: the iTimer interval timer (iT) feature that is fully customizable with high/low intensity intervals and compatible with the iTunes library and Pandora music app, a gym reminder alarm, and a customizable inspirational message for the end of the workout. Fitness Alarm iT is available in the App Store
http://itunes.apple.com/us/app/fitness-alarm-clock-it/id563016862?mt=8
for all iPhone users for $2.99 and comes in multiple LED colors – blue, yellow, pink, and purple.
About Mobile Life Technology
Mobile Life Technology, Inc. is a New York City based fitness and wellness mobile application development company. For more information, visit
www.mobilelifetech.com
.