VersaSuite Receives CCHIT Emergency Department Certification
VersaSuite 8.0 achieves more 2011 CCHIT certifications than any other Hospital Information System (HIS) or Electronic Health Record (EHR) solution.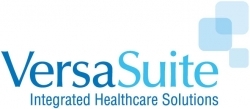 Austin, TX, October 02, 2012 --(
PR.com
)-- VersaSuite, a leading provider of Hospital Information Systems (HIS) and Electronic Health Record (EHR) software solutions, today announced that VersaSuite 8.0 is a pre-market CCHIT Certified® 2011Emergency Department EHR and HIS solution. According to CCHIT, VersaSuite 8.0 meets the certification commission's rigorous criteria for use in demanding Emergency Department environments.
The CCHIT Certified® 2011 certification programs include a complete inspection of integrated EHR functionality, interoperability, and security according to criteria independently developed by the CCHIT's multi-stakeholder, expert work groups using CCHIT's published testing methods.
The CCHIT Emergency Department Certification requires a vendor to demonstrate:
- Ability to support all aspects of Emergency Department workflow
- Comprehensive patient tracking and real time information presentation
- Real time monitoring of lab orders and test results
This certification follows VersaSuite's certifications for Inpatient and Ambulatory use, recognition only two companies have achieved. VersaSuite 8.0 has the most industry standard certifications in the Health Care IT market, attesting to the comprehensiveness of the VersaSuite platform.
"We are devoted to providing the best possible experience for our clients and are honored to receive pre-market certification from CCHIT through their Emergency Department certification program," said Dr. Darius Samani, founder and CEO of VersaSuite. "We built our software solution with the future in mind and plan to continue to innovate in the Health Care IT market."
About VersaSuite
VersaSuite is a comprehensive integrated software solution built from one unified code-set that automates healthcare in medical enterprises of all sizes, ambulatory and inpatient. VersaSuite is leading the industry to bring advanced and easy-to-use healthcare automation to hospitals, clinics, practices, surgical centers and community health centers globally. VersaSuite 8.0 is ONC-ATCB 2011/2012 certified to support Meaningful Use for both
eligible providers
and
eligible hospitals
. VersaSuite 8.0 is a CCHIT Certified® 2011 Ambulatory EHR additionally certified for Cardiovascular Medicine with Advanced Reporting, Child Health, Dermatology, Enterprise and Women's Health, CCHIT Certified® Inpatient EHR and CCHIT Certified ® Emergency Department EHR. Learn more about VersaSuite at
www.versasuite.com
.
About CCHIT
The Certification Commission for Health Information Technology (CCHIT®) is an independent, 501(c) 3 nonprofit organization with the public mission of accelerating the adoption of robust, interoperable health information technology. The Commission has been certifying electronic health record technology since 2006 and is approved by the Office of the National Coordinator for Health Information Technology (ONC) of the U.S. Department of Health and Human Services (HHS) as an Authorized Testing and Certification Body (ONC-ATCB). More information on CCHIT, CCHIT Certified® products and ONC-ATCB certified electronic health record technology is available at
http://cchit.org
. "CCHIT®" and "CCHIT Certified®" are registered trademarks of the Certification Commission for Health Information Technology.
Contact
Tom Dorsett, VP of Sales and Marketing
tom.dorsett@versasuite.com
Contact
VersaSuite
Tom Dorsett
800-903-8774
www.VersaSuite.com

Contact