New York City's Take Two Film Festival Emerges as a Major Venue for Undiscovered and Independent Filmmakers from Around the World
Three-day festival will bring 54 films from 14 countries to the historic Theatre 80 St. Marks in the East Village November 2-4.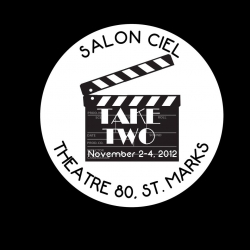 New York, NY, October 05, 2012 --(
PR.com
)-- Attendees at this year's Take Two Film Festival presented by Salon Ciel will discover killer mutant chickens and a werewolf from Brooklyn. They'll see sex education from the perspective of a devout Christian student, and bisexuality from the perspective of a new generation. They'll experience political activism and explore civil liberties. They'll be inspired by films that have been carefully selected for technical quality, imaginative content, and free expression.
In its second year, Take Two will feature over 50 films at Theatre 80 St. Marks in the East Village of New York City the weekend of November 2-4. That's a drastic jump from just five films presented at the inaugural festival last year, and the rapid growth signifies the desire for a new independent venue to showcase filmmakers that are below the mainstream radar.
"We are the alternative… we give voice to the unknown, the forgotten, the abandoned, and are accepting of diverse people and ideas," said Take Two Producer Asher Bar Lev. "Our films have a story attached to technical excellence. They deal with the grey of life in ways that are different and ways that are quite original."
Take Two Film Festival
November 2-4, 2012
Theatre 80 St. Marks
For film synopses, tickets, and the schedule visit http://taketwofilmfestival.com/
Some filmmakers selected for Take Two hail from premiere academic centers including the New York University Tisch School of the Arts, the School of Visual Arts, the Rhode Island School of Design, Florida State University, and the American Film Institute. Others represent cultures from countries abroad including Germany, The Netherlands, Canada, Ukraine, United Kingdom, Portugal, Czech Republic, Israel, Bangladesh, Denmark, Ireland, Morocco, and Iran.
Take Two films will be screened in nine, 120 minute blocks that include a range of shorts, full-length features, and documentaries followed by engaging Q&A sessions with filmmakers. Tickets for each block are $9 for students and $12 for adults. Discounted single-day, two-day, and three-day passes are also available.
Festival highlights include the November 3 world premiere of Killing the Dog, the story of a streetwise werewolf from Brooklyn by writer/director Conor Stratton and Six Part Productions. The premiere will be followed by a Q&A with Conor and an after-party featuring a live music performance by the critically acclaimed violinists of Villalobos Brothers. Concert tickets are sold separately.
Take Two will cover themes of sexuality and self-identification, screening a documentary film from co-directors Brittany Blockman and Josephine Decker, Bi the Way, which investigates the latest scientific reports and social opinions on bisexuality while following five members of a new generation that could be ushering in a sexual revolution. The film lineup also includes The Education of Shelby Knox, the story of a feisty teenager from Lubbock, Texas who became an unlikely advocate for comprehensive sex education, and a 25 minute excerpt from photographer Sarah Small's ongoing live performance art project, Tableau Vivant of The Delirium Constructions.
The festival will explore political activism, featuring Better This World, which follows the journey of David McKay and Bradley Crowder from political neophytes to accused domestic terrorists, diving to the heart of the war on terror and its impact on civil liberties and political dissent. The story of an activist raising awareness among New Yorkers about the right for women to be topless in public, Moira, will also be screened, as will While We Watch, a gripping portrait of the Occupy Wall Street media revolution.
Festival goers will learn about coping with terminal illness in Speed Grieving; experience a touching father-daughter journey that investigates the role of women in religion in Lone Samaritan; and be entranced by an optical illusion in Hyperlightness ad absurdum. The list goes on.
The venue, Theatre 80 St. Marks, is an East Village landmark known for creativity, daring and innovation. Beginning during Prohibition, the theatre was a destination for Jazz greats like Thelonious Monk, Harry "Sweets" Edison, John Coltrane and Frank Sinatra. The Greenwich Village Society for Historic Preservation recently recognized Theatre 80 with the Village Award for its place in the history of the community.
"In a sense, Theatre 80 is a movie that's showing movies," said Asher Bar Lev. "There's such a complex family history behind it."
For taking the lid off underground films, 11 festival winners will bring home a true piece of New York City... The Manny. Winners in the short film category will also be shown in the Tompkins Square Park Summer Festival next year.
To access film bonus features and real-time festival updates, like Take Two on Facebook, follow @TakeTwoFilmFest on Twitter and use that hashtag #Take2Fest. Also, view the Take Two video promo at http://vimeo.com/43882140.
About Salon Ciel
Salon Ciel is a gallery alternative that exhibits emerging photographers and visual artists with spunk. Our monthly events display adventurous + relevant works in relaxed environments.
At the salons, artists and guests spend an intimate evening together in a residential cocktail party atmosphere, viewing and discussing art while overlooking Manhattan. At our public events around New York City, we bring art to wider audiences while still maintaining the personal experience.
We welcome portfolio submissions from emerging artists. While our main focus is photography and visual art, we also encourage performing art portfolios and often flirt with collaborative multidisciplinary exhibitions. Please see our web site www.saloncielny.org.
Contact
Take Two Film Festival
Adam Daley
614-580-2048
taketwofilmfestival.com
@taketwofilmfest

Contact