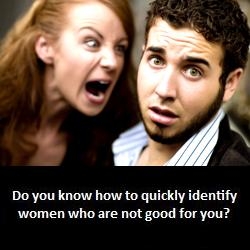 Hollywood, CA, October 06, 2012 --(
PR.com
)-- Many books are available in bookstores and online that teach women how to quickly and effectively identify various types of undesirable men that they should avoid connecting with in today's dating scene. Are there any such books available for single heterosexual men as well?
Alan Roger Currie, an internationally known book author, dating advisor, and public speaker, says he had a challenging time identifying even one book title being sold online that fits that description.
"When I went on Amazon.com, and a few other websites that market books, I could not find even one book title that suggested that it would help men quickly and effectively identify women who they should avoid interacting with in today's dating scene. There are many book titles, including some of my own, that teach men how to approach and converse with the women who they are interested in spending time with romantically or sexually, but there are virtually no books out there that help men avoid interacting with women who are going to do nothing more than waste their time. This is what motivated me to write this new book of mine," said Currie, who is the author of "Mode One: Let the Women Know What You're REALLY Thinking" which has been read by men from as many as twenty-five different countries.
Currie's latest book is entitled, "The Possibility of Sex: How Naive and Lustful Men are Manipulated by Women Regularly," and currently is only available in the eBook format on Amazon. Currie plans on releasing a paperback version of the book in January 2013. In only its second day being listed, Currie's eBook is already listed in Amazon.com's Top 100 bestselling Kindle eBooks in the categories of "Interpersonal Relations" (#45) and "Sex" (#8). The normal price of the book is $7.99, but the eBook has a special reduced price of $3.99 until October 31, 2012. For those with an "Amazon.com Prime" membership, the eBook can actually be downloaded for free.
One group of women that men Currie believes single men should avoid are what he refers to as "Timewasters," which Currie describes as women who love to be "innocent flirts" with men, and who may even exhibit sexually provocative behavior toward men, but in the long-run these women will not demonstrate any genuine interest toward being romantic or sexual with the men who they have targeted for attention and favors.
"Some women just love to be flattered by men, they love receiving flirtatious attention from men, they love to be entertained by men, and they love to 'use' men for financial and non-financial favors, but the reality is, many of these women will never end up dating or having sex with most of the men who are pursuing them. What these women do is offer men nothing more than 'the possibility of sex' with them as a clever tool of manipulation that allows these women to take advantage of men who have a very strong and impatient interest in having sex with them," said Currie, who is the host of the most popular and most listened to talk radio podcast program in the category of "Romance" on the BlogTalkRadio Internet Radio Network.
The second group of women that Currie identifies and criticizes in his new book are what he refers to as simply "No Good Women," which Currie describes as gold diggers, "man thieves" (i.e., women who offer themselves to married men as a potential 'mistress'), drama queens, misandrists or "man-haters," and dishonest and adulterous women.
"Men need to know what behavioral characteristics to look for in women who are going to end up doing nothing more in the long-run than wasting their time at minimum, and at maximum, will leave the men heartbroken or in financial ruin. There are a lot of women in society who would make any man a great wife, a great girlfriend, or even an enjoyable platonic friend, but there are a good number of other single women in society who want to use their looks and sex appeal to take advantage of men and ultimately abuse them," added Currie.
Visit Amazon.com and enter "Alan Roger Currie" in Amazon's search engine to find Currie's new eBook and his other paperbacks and Kindle eBooks.
Also, visit http://www.modeone.net