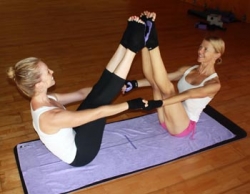 Chicago, IL, October 11, 2012 --(
PR.com
)-- For Stick-e Products, known for its innovative
yoga and pilates fitness accessories
, sometimes timing is everything. In the U.S., the Baby Boomer population is now in their late 40's and up. Along with this maturity comes more aches and pains, joint degeneration, and the realization that staying active and healthy is more important than ever. Stick-e's fitness products are bridging the gap between fitness props and therapeutic aids for this large demographic resulting in strong company growth.
According to The American College of Rheumatology, the total number of diagnosed cases of arthritis for baby boomers will increase to 40 percent by 2030. Additionally, according to the 2012 Sporting Goods Manufacturers Association Survey, yoga is the only fitness activity that has significant participation (23 million) and double digit growth over the last two years (23%). These two facts make Stick-e's fitness products highly relevant as evidenced in the recent press and the company's growth.
Stick-e's new spokes person and model, Briana Hassibi, entered the national stage when she was recently featured on the cover of Arthritis Today Magazine. Briana has suffered since she was a young girl from Juvenile Rheumatoid Arthritis yet she has remained active due to her yoga practice. After reaching out to Stick-e® to compliment them on their products, she was tapped as their newest model. It was on Stick-e's website that Arthritis Today magazine found Briana, learned her story, and chose her to be an inspiration to others who suffer from this chronic disease by placing her on their September cover.
Briana and her yoga coach, Carol Diamond of Boca Raton Florida, are now producing short videos on how to perform yoga poses properly for maximum benefit. These short video clips can be viewed on Stick-e's website under the Yoga Poses and Tips tab at www.Stick-e.com.
Stick-e® Products' line includes joint protection items such as the Knee and Wrist Saver® and the Wrist Saver® Block which provide comfort, support, and better positioning for weight bearing exercises. In addition, the line includes non slip products including socks, gloves and towels to provide a better grip while practicing yoga with or without a mat. The most recent addition is a balance beam from BeamfitTM which helps with balance and building core strength in a low impact environment.
Stick-e® Products' significant growth in 2012 is attributable to reaching new therapeutic categories through baby boomer catalogs (Gold Violin, Body Essentials, The Feel Good Store), and new large chain sporting goods retailers, most notably Dick's Sporting Goods, REI, and Dunham's Sports. Spring 2013 is shaping up for continued expansion in these categories along with more new innovative fitness products.
Stick-e® Products LLC, is committed to helping people incorporate fitness into their daily life by eliminating obstacles and solving problems for a more rewarding fitness experience. They are dedicated to innovative and results-oriented products and believe that you become what you live, and you should live what you love.