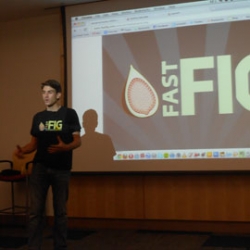 Bethlehem, PA, October 19, 2012 --(
PR.com
)-- Fig Labs, Inc. launched their new product FastFig, a cloud-based tool for solving complex equations. CTO Brian Peacock released the limited beta to the public at the Lehigh Valley Tech Meetup on October 16th, 2012 to an enthusiastic reception. FastFig is designed for researchers, engineers, students, and anyone looking to solve problems.
FastFig's user interface is simple and easy to learn. It's optimized to get things done. Search FastFig to find answers your colleagues or classmates have published and apply it immediately. Whether users are building a cell model or building a bridge, FastFig makes it happen - less slogging through manuals, more elegant results.
FastFig's intuitive interface is an ideal tool for the classroom and the workplace making it easy to save personalized equation sets and publish equations to the world with the click of a button. In academic settings, students can access examples/templates just by following a URL. Professionals and engineers can save their frequently accessed equations in an easy to access, secure, platform saving time and money.
FastFig has a fully featured, easy to learn, language based on the Python Programming Language and Sage Mathematical Library. FastFig displays users' published work in a wiki-like format that includes version control, LaTeX rendering, rating/flagging quality control system, and much more.
Beta users are giving great feedback and are vital to making FastFig even better. Jia Wang, an electrical engineer from the Denver area told us, "I'm excited about saving my commonly used equations in one place, on a platform in the cloud." FastFig is eager to learn what beta users think! Sign up, for free, at:
http://www.fastfig.com/
Fig Labs, Inc. is a start-up based in Bethlehem, PA. The company was founded by frustrated engineers intent on making an easy to use platform. Fig Labs, Inc.'s FastFig enables users to solve problems—not focus on de-bugging equations.