depo consulting ltd Sponsor Second Life Virtual Motor Racing Championship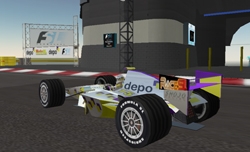 Milton Keynes, United Kingdom, July 13, 2007 --(
PR.com
)-- depo consulting, a full-service developer on Second Life, today announced that it has agreed with FormulaSL racing to be the main sponsor for the first full season of the single seat car racing championship.
FormulaSL is the latest sporting venture of Les White, whose MotoSL bike racing has built a large and committed support base. The FormulaSL series replicates the experience of top end real life motor sport both in terms of the racing, where fuel strategy, tyre choice and pit stops play a key part, but also in the art of setting up the cars for maximum performance.
The series has four circuits, all of which have been engineered to maximise the performance of the cars and to provide a compelling experience for spectators.
"We hope to contribute to the development of virtual motor sports, which are an exciting new area," said Peter Dunkley, depo director. "Unlike traditional computer games, the teams, the drivers and the spectators are all 'real', so how these people interact is fascinating and of real relevance to our business as we work to understand the potential of virtual worlds for depo's business customers.
"The development of the technology that underpins the sport is also cutting edge – and enthusiasts rather than businesses are doing it. Just as in real life motor sport, the quest for performance in FormulaSL will have knock on benefits for businesses and individuals using Second Life.
"Also, Second Life has quickly grown in importance to depo as a business – it generated 60% of our total revenues in June – and we felt that we should look for opportunities to invest in the virtual community as it develops. We are incredibly excited to be working with Les White to develop a whole new sport "
The next race in the series will be this Saturday, 14th July at the Mooz raceway. Details can be found on www.racesl.com or on depo's website, www.depoconsulting.com
###
Notes to Editors:
About depo consulting ltd
Founded in 2001, depo consulting is a consultancy based in Northamptonshire, near Milton Keynes, that focuses on the commercialisation of websites and the use of the Internet to drive revenues and profitability. They are also a full service developer in Second Life. Full service developers are those capable of providing end-to-end management of large and complex projects within Second Life, such as building an entire island. depo have already completed several such projects, including their recent delivery of European law firm Field Fisher Waterhouse's in-world office facility. They now have staff in Europe, the USA, South America and Asia.
www.depoconsulting.com
About FormulaSL
The cars used in FormulaSL have been created by many talented people. They are all within relative same dimensions and equalized for mass. They use the same common script set as designed by Les White of RaceSL.com
The FSL car features dynamic grip and handling with many set up options to allow drivers to tune for the best performance at each track. Car set up is accessed via an LCD screen in the HUD. The HUD also displays your current gear, speed, RPM, fuel and tire level as well as warning lights for traction and shift.
The current car set up options include:
Front Aerodynamics: Adjust the wing angle to affect down force. More down force trades top speed for more traction. Front down force will affect handling in different ways then rear.
Rear Aerodynamics: Adjust the wing angle to affect down force. More rear down force trades top speed for more traction. Rear down force will affect overall traction and grip more then the front. It will also have a greater effect on drag and fuel use.
Final Gearing: Final gearing affects speed and acceleration of each gear. You can trade top speed for acceleration.
Suspension Bias: Suspension bias lets you trade traction at the wheel for willingness to turn.
Traction Control: Traction control lets you trade acceleration for greater traction.
Brake pressure: Brake pressure lets you dial in how quickly the brake peddle stops you.
Engine Braking: Engine braking allows you to control how quickly RPM drop when you let off the gas.
Camera : Choose between a mix of 6 different camera views. From Cockpit to follow cams.
More information on depo FormulaSL can be found on www.racesl.com
Contact
depo consulting ltd
Peter Dunkley
+44 7713 795563
www.depoconsulting.com
Switchboard = +44 (0) 845 003 1351

Contact