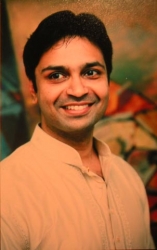 Mumbai, India, July 12, 2007 --(
PR.com
)-- Mr. Harshal J. Shah, a veteran of IBM and Accenture, has now been appointed as the CEO of Reliance Technology Ventures Ltd, a part of Reliance Anil Dhirubhai Ambani Group. Previously, Mr. Shah was a Vice President at Reliance Capital Ltd. and was a member of the leadership team which developed the strategy for all of Reliance Capital's business units and its global forays.
Mr. Shah has been instrumental in the investments into Yatra, which is now India's largest online travel consolidator, Seedfund, and an unnamed company which formed the basis of the largest venture capital transaction in India. He serves on the boards of Yatra Online Pvt. Ltd., Telsima Corporation, Setco Automotive Ltd. (listed on Bombay Stock Exchange) and Reliance Venture Asset Management Ltd.
Mr. Shah was a Truman Gray Scholar at MIT from which he has two Bachelors' degrees in Electrical Engineering and Computer Science, and Management. He also has an MBA from The Wharton School, University of Pennsylvania.
Reliance- Anil Dhirubhai Ambani Group
The Reliance-Anil Dhirubhai Ambani Group (Reliance-ADA Group) is among India's top three private sector business houses. With a market capitalisation of US$ 22 billion, net assets in excess of US$ 7 billion and net worth of US$ 6 billion, Reliance-ADA Group has interests in varied sectors ranging from communications (Reliance Communications), financial services (Reliance Capital Ltd), power generation, transmission and distribution (Reliance Energy), natural resources (Reliance Natural Resources), infrastructure, media & entertainment and health care.
Across different companies, the group has a customer base of over 50 million, the largest in India, and a shareholder base of over 8 million, the largest in the world.
The Reliance - ADA Group has a business presence that extends to over 4,500 towns and 300,000 villages in India, and 5 continents across the world.
Reliance Technology Ventures – Introduction
As the worlds of computing and communications expand and converge, Reliance ADA Group's horizons are constantly broadening. Reliance Technology Ventures was incubated by the Group to leverage emerging technologies and markets and look ahead at future possibilities to enrich the Group's eco-system.
Investment Strategy
With an overall strategy to enable innovation, Reliance Technology Ventures seeks out and invests in promising technology, media and telecom (TMT) companies worldwide in various stages of their lifecycle. Our focus is both - on established and new technologies- that advance the computing, communications, media & convergence platforms.
They believe that the whole is greater than the sum of its parts and that in a rapidly-changing knowledge economy, organizations can prosper only by mobilizing diverse competencies, skill sets and expertise; by imbibing the spirit of "thinking together." To further this belief, they seek to create an ecosystem whereby it not only maximizes investor returns but also provide an ecosystem for the growth of its investee companies.
They build companies using their worldwide customer base, technological knowledge, access to capital, and the power of the Reliance-ADA brand. While financial return is imperative, their greater mission is to spur innovation and inspire the entrepreneurial spirit to thrive.
Their Team
The team comprises professionals who bring over 50 years of cumulative experience and have a solid academic base (MBAs – Ivy League, Technologists from premier Indian & International Universities & Chartered Accountants). The team has extensive and proven experience in operations, finance, technology, marketing & M&A and investment knowledge with top corporate brands like TATA, Mahindra, Reliance , international consulting firms like IBM, Anderson Consulting (now Accenture), PricewaterhouseCoopers, & Private Equity/ VC firms.
Connections
They have strategic relationships with other potential sources of financing, allowing portfolio companies to benefit from complementary relationships with other venture capitalist and other corporate investors (including Group Companies).
The Group Factor
As part of Reliance ADA Group, Reliance Technology Ventures has the ability to draw upon the best and brightest talent from within the eco-system to evaluate prospective investments, offer business and technology guidance to their portfolio companies, and provide unrivaled access to the latest developments in the industry.
The access their portfolio companies have inside their group is priceless. From insights into best practices, business models, and processes to access to senior management and internal customers to the chance to work with their businesses to drive the development of solutions to solve problems for their customers, their portfolio companies can call on the vast resources of their Group.
###