SmartTruckRoute Truck Routing App Offers Dispatch Integration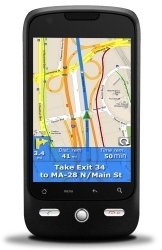 Boston, MA, October 31, 2012 --(
PR.com
)-- TeleType Company, a veteran GPS software developer, is now offering fleet dispatchers an easy method of pushing truck specific routes directly to the drivers smartphone. The company will provide free assistance to developers wishing to integrate a truck navigation function into their application. The paid SmartTruckRoute client subscription based software is available directly to the drivers via GooglePlay.
Recognizing the specialized navigation needs of truck drivers, TeleType pioneered the use of portable GPS for truck navigation beginning in 2008. The company designed and developed the SmartTruckRoute application to support the increasing use of mobile phones for navigation.
The SmartTruckRoute app connects to in-house truck routing servers located in Boston, Massachusetts to allow commercial drivers to use the built-in GPS of the phone or tablet to create truck specific routes with the added benefits of live map updates and live traffic. The software takes into account commercial truck restrictions as well as the vehicle height and weight. SmartTruckRoute helps drivers avoid costly tickets and provides additional safety. Turn by turn visual and voice instructions allow the driver to use the handset hands free when navigating.
According to Marleen Winer, Vice-President, TeleType, "Partnering with similar industries to provide truck specific navigation seamlessly through dispatch applications is a win for the drivers as well as the partners."
SmartTruckRoute Key Features and Benefits:
· Quick method of validating a truck route with the convenience of using smartphones or tablets.
· Use built-in GPS for turn by turn navigation.
· Instant activation without the need for lengthy map downloads, offers immediate truck specific routing upon purchase, no waiting time.
· Fast routing, even long routes take less than two seconds to complete.
· Highly efficient routing service offers up to the minute maps.
· Routing considerations include low bridge heights and clearances, load limits, one-way road designations, sharp turns, and allowances.
· Visual and Voice turn-by-turn instructions.
· Navigation panel offers large type for critical information such as Distance to Turn, Distance to Go, Time to Destination, and Street names.
· Dynamic routing based on size and weight of vehicle, user definable truck specifications.
· Supports Hazmat restrictions by class to avoid tunnels and other restricted areas as appropriate.
· Displays surrounding traffic and aerial views at no additional charge.
· Use built-in speakerphone to speak the destination address or business name for safe and convenient hands free operation.
· Navigation does not interrupt other functions of the phone therefore the driver can talk simultaneously while navigating.
· New Cellular Data Conservation mode allows drivers to use the app continuously within the standard data plan limits.
· SmartTruckRoute can be used seamlessly with our partner BigRoad for messaging, logging and tracking.
SmartTruckRoute is currently available for Android and is being developed for iOS.
For further information contact TeleType Company at 1-800-717-4478, 1-617-542-6220 or visit www.smartruckroute.com. SmartTruckRoute is available on Google Play. Cost: $24.95/3 months, $65/lifetime (November only), regular pricing is $45 per year. During the month of November, the company is offering the service for a one time payment of $65 including free lifetime updates. Developer modules and services are also available to fleets.
Contact
TeleType Co.
Marleen Winer
617-542-6220 x120
www.teletype.com
1-800-717-4478

Contact
Multimedia
SmartTruckRoute truck routing app for Android phones and soon for the iPhone.