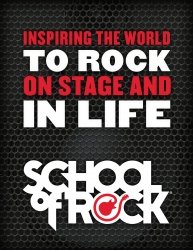 Coral Springs, FL, November 05, 2012 --(
PR.com
)-- School of Rock Coral Springs & School of Rock West Broward are excited to announce that the awesome drummer, of the band Iron Maiden, Nicko McBrain, will be doing a Meet & Greet, Thursday, November 8th at 7:45pm, at their Coral Springs location. The young music students of School of Rock are presently in rehearsals for a "Tribute to Iron Maiden" Show and are looking forward to some first hand advice from Nicko himself.
"Nicko is awesome for volunteering his time to mentor the kids," says School of Rock Coral Springs Music Director, Andrew Musselman. "This is an opportunity that the kids will never forget."
"Our House Band has been working on a cover of Iron Maidens, 'Aces High,' It would be amazing if they got to rehearse it with Nicko," says Christian Davis, Music Director at the School of Rock West Broward.
The performance-based music school, has decided to open their doors to the public for this one night, so that other kids in the community can meet Nicko and better understand the importance of music education. In lieu of an admission fee, School of Rock will be accepting optional donations to the Rock School Scholarship Fund. This fund will provide instruments and scholarship funding to cover tuition expenses based on a student's financial need combined with their desire to actively and passionately participate in a rock school program.
About School of Rock:
With more than a decade of experience and over 100 schools throughout the US and Mexico (six schools in Florida state), School of Rock is the leader in performance-based after school music education. Students learn from professional musicians in an interactive environment combining weekly one-on-one lessons with structured group rehearsals culminating in a live performance in front of real crowds in real rock venues. Through our performance-based approach to teaching music, our students are more inspired to learn, more motivated to excel and more confident in everything they do. The purpose of our program is, "To inspire the world to rock on stage and in life".
About the Rock School Scholarship Fund:
The Rock School Scholarship Fund (RSSF) is the first 501(c)3 non-profit which provides scholarship funds and instruments for children ages 7 to 17 years of age who want to attend any rock music school in the U.S.A. A rock music school teaches kids to play music by teaching them rock and roll, with a curriculum that includes Led Zeppelin, The Who, AC/DC, Pink Floyd, Frank Zappa, The Beatles, and Black Sabbath… the Classics!