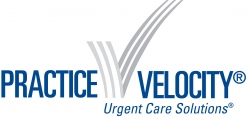 Machesney Park, IL, November 15, 2012 --(
PR.com
)-- Practice Velocity®, LLC, (www.practicevelocity.com), a medical software and billing technology company specializing in urgent care, is pleased to announce the celebration of their 10th Anniversary this month. Practice Velocity Urgent Care Solutions® was founded in 2002 by urgent care physicians David Stern, MD, CPC, John Koehler, MD, FACEP, and Terry Buzzard, MD, FACEP, who together sought a more effective way for urgent care centers to handle the operational elements of running a practice, including patient flow, billing, coding, and more. When extensive research revealed a need for electronic medical record and practice management tools designed specifically for urgent care, the three urgent care physicians worked together to design and launch their first service: PiVoTSM (Practice Velocity template), a modified electronic medical record. Practice Velocity's first client went online with PiVoT in February of 2003 and is still with the company today.
A decade later, Practice Velocity now serves more than 800 urgent care centers in all 50 states. It has expanded its services significantly to offer a complete electronic medical record (EMR), fully-integrated practice management software, billing services, contracting and credentialing services, and consulting services. All services are provided in the cloud as software-as-a-service (SaaS).
"I am exceptionally pleased with the growth Practice Velocity has experienced over the past 10 years. We're pleased urgent care physicians turn to Practice Velocity for urgent care solutions to help them to provide the highest quality services for their patients," said David Stern, Practice Velocity CEO. "I think much of our success can be attributed to the urgent care professionals sharing with us their most pressing problems needs and then providing solutions that solve these issues."
About Practice Velocity
Practice Velocity, LLC, is the leader in solutions for the urgent care industry, including electronic medical record and practice management software, billing services, and contracting and credentialing services. Founded in 2002, it is the only company that offers products and services designed by experienced urgent care physicians for the urgent care setting. Practice Velocity's VelociDoc Tablet EMR was rated the top EMR overall by urgent care clinics in a recent KLAS rating survey: "Urgent Care 2012: A Host of EMR Options," March 2012. © 2012 KLAS Enterprises, LLC. For more information on Practice Velocity, visit
www.practicevelocity.com
.