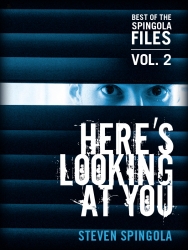 Wales, WI, December 03, 2012 --(
PR.com
)-- Today, Badger Wordsmith, LLC (BWS) announced the release of Steven Spingola's new book, Best of Spingola Files, Vol. II: Here's Looking at You (available now at Amazon.com).
In his latest book, Spingola, a retired Milwaukee Police Department homicide detective who earned the moniker "The sleuth with the proof," probes the cold case homicides of Latrice and Monika Scott—two Milwaukee girls, ages seven and 11 respectively, found with their throats viciously slit; walks readers through the acquittal of a police officer for arson; and sounds the alarm over the federal government's continued expansion of America's post 9/11 surveillance state. Spingola further discusses over three dozen other matters of criminal justice, including the guilty verdict of former Illinois police sergeant Drew Peterson, the sharing of law-abiding Americans' DNA between corporations and insurance companies, and old-school detectives' thoughts concerning their contemporary counterparts.
Earlier this year, BWS published Spingola's first book, Best of the Spingola Files, Vol. I.
To arrange an interview with Steve Spingola, please send an email inquiry to livia@badgerwordsmith.com