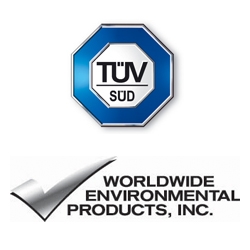 Brea, CA, December 13, 2012 --(
PR.com
)-- Worldwide Environmental Products, Inc. announced today that it has signed a business cooperation agreement with TÜV SÜD, a company headquartered in Germany that operates internationally with a wide knowledge in the field of periodical vehicle inspection. The complementary foundation of this partnership will provide higher quality, more cost-effective solutions for comprehensive vehicle inspection programs.
The knowledge, processes and experts of TÜV SÜD combined with the technologies, experience and project management of Worldwide Environmental Products, Inc. will allow the companies to work together toward their mutual objective of providing the most effective, efficient and quality vehicle inspection programs in the world. "We are very excited about our business partnership with Worldwide. With their experience and technologies, TÜV SÜD feels Worldwide was the best partner to move forward with, especially in the Americas region," said Bernhard Kerscher, CEO of TÜV SÜD Auto Service.
"TÜV SÜD provides successful, quality vehicle inspection programs around the world. With their exposure and our commitment to providing programs of real value, we certainly feel that this partnership will allow both companies to grow and provide quality solutions in various types of vehicle inspection programs," said Bill Delaney, President and CEO of Worldwide Environmental Products, Inc.
Worldwide Environmental Products, Inc. and TÜV SÜD will work together in providing customized vehicle inspection solutions to jurisdictions and motorists. As requirements are frequently changing and with technologies continuing to evolve, the vehicle inspection industry is anything but stable. This partnership will allow the experts at TÜV SÜD and Worldwide Environmental Products, Inc. to collaborate in tailoring the most optimized solution for any specific program. "As proven around the world, our solutions consistently maintain the highest quality in the industry and continue to provide the most cost-effective, long term solutions for jurisdictions and tax-paying motorists, said Delaney. "This partnership will provide the ultimate benefit to the motorist, as we can provide and maintain an optimized solution for a long period of time. That's something no other company in this industry is able to do."