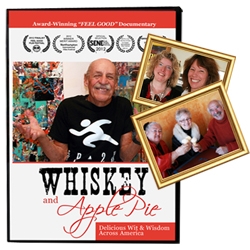 Santa Rosa, CA, December 17, 2012 --(
PR.com
)-- How often have you said to yourself, "If I knew 20 years ago what I know today....?" Imagine what goes through the mind of an 80 or 100 year old when they think, "If I knew 60 or 80 years ago what I know today…" Whiskey & Apple Pie captures these insights, and the wisdom that can only be learned from experiencing many years of life on this planet. Watching Whiskey & Apple Pie won't make you wise, but it will present to you inspirational quotes and nuggets of wisdom which these elders have culminated from their own life experiences. We invite you to ponder these messages to help develop your own truths. Imagine using these new insights to get the most quality out of the rest of your life. Abraham Lincoln once said, "In the end, it's not the years in your life that count. It's the life in your years."
Whiskey & Apple Pie is a thought-provoking and heartwarming "feel good" documentary that brings into focus the wisdom of our older generation. In this award-winning documentary, two forty-something women take a journey across America to capture the wisdom and stories of men and women over the age of seventy-five. The film includes interviews with both men and women who share their wisdom, their humor, their joy and their passion. Whiskey & Apple Pie features Tippi Hedren, Mickey Rooney, Dr. Dorothy I. Height and the musical talent of Sahra Baker, Joe Ruffatto and the Florence Adams Band.
Whiskey & Apple Pie brings to light questions about the choices we make in life and, in some cases, the recipe for living a better life. Whiskey & Apple Pie is a delicious journey for every generation to enjoy.
A Great gift for the holidays and beyond. Order "Whiskey and Apple Pie" on Amazon, watch the trailer and buy the DVD on our movie web site at:
www.whiskeyandapplepie.com
. A "feel good" experience and don't we all need a little "feel good"?