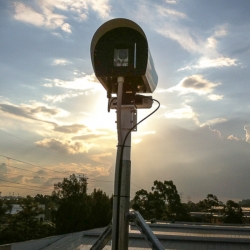 San Diego, CA, December 20, 2012 --(
PR.com
)-- LightPointe, the number one manufacturer of point-to-point Gigabit capacity FSO wireless bridges, and the leader in low latency 60 GHz small cell and 80 GHz backhaul radios used for broadband transmission, announced the availability of a Case Study on its HyBridge™ combination radio and laser bridges. The HyBridge Series has four models, including the world's lowest priced Gigabit Ethernet link capable of "five nines" availability. Featured in the Case Study, which is available now on LightPointe's website, is the HyBridge LXR-5 model, several of which were recently deployed by Star-Tech Communications for a leading manufacturer of material handling equipment in the Sydney, Australia region.
"Our new Case Study on the HyBridge Series includes a description of a recent large installation and details the reasons why the customer selected LightPointe's solution after evaluating all alternatives, including installation of fiber cable, traditional radio frequency wireless bridges, and services from the regional telecommunications provider," said John Taylor, vice president of sales for LightPointe. "Star-Tech, one of our leading authorized channel partners in Australia, assessed their customer's needs, which consisted of a requirement to securely and cost-effectively connect multiple buildings with Gigabit Ethernet capacity due to company growth beyond its initial facility."
"We recommended LightPointe's HyBridge Series because it met and actually exceeded all of the customer's stated link requirements," said Tony Tilbrook, technology director at Star-Tech Communications. "The system provides Gigabit capacity, is easy to install, affordable, provides availability up to 99.999%, has built-in backup, provides immunity from nearby radio frequency transmissions and congestion, and has the highest signal and cyber security possible to protect the customer's computers and data from eavesdropping and viruses. Our customer is extremely satisfied with the system, and especially likes the fact that it will pay for itself, since there are no recurring monthly broadband fees. They own their own network."
The design of HyBridge wireless bridges goes beyond traditional outdoor radios by employing a patented combination of 4th generation
Free Space Optics
'green technology' and RF technology. In more than 99% of operating conditions the bridges rely on advanced laser transmission, which is faster than fiber, highly secure, license free, and immune to RF interference and congestion issues. Yet the system can automatically switch to RF transmission if conditions warrant, which is typically less than 1% of the time. The switching is completely transparent and automatic, and provides a built-in backup for the link, giving IT managers and network planners the added piece of mind of constant failsafe connectivity. HyBridge can connect two or more buildings in a school or business campus setting, or be deployed in small cell backhaul scenarios in 4G LTE networks. The system has also been deployed in military and government installations, due to the high level of signal security laser transmissions provide.
Features of the HyBridge wireless bridge include:
High speed full-duplex Gigabit wireless connectivity for highly secure, reliable transmission.
Exclusive patented DualPath™ architecture for up to 99.999% network availability, even in dense fog and heavy snow.
Enhanced link distances due to use of optical wireless and RF. The Maximized Distance DualPath™ feature enables longer distances due to rate adaptive use of multiple bands.
Ability to add the HyBridge unit to existing legacy wireless bridge installations, thus protecting the customer's investment in their current slower data bridge while upgrading to Gigabit Ethernet.
Integrated Free Space Optics and radio for a complete solution (easy install and attractive design, critical for small cell backhaul).
AirePex™ Intelligent Switching (patented) includes an algorithm to change between optical and RF transmission, preventing unnecessary switching.
Intuitive AireManager™ Web interface allows links to be configured and monitored from a network computer.
High-precision, superior quality German optical lenses.
Includes a radio which uses flexible 5.4/5.8 GHz frequencies for widespread unlicensed usage, and worldwide license-free optical free space spectrum.
Superior RF technology via both OFDM and 4 antenna/2x2 MIMO technology, for higher data rates and lower interference in congested areas.
Superior QoS due to Ethernet Port Flow Control and intelligent packet queuing, providing priority to voice/video traffic when switching to alternative RF path.
Channel Shifting operates at frequencies different from those used in unlicensed 802.11 networks, for increased security. Links are undetectable by most 5 GHz devices.
About LightPointe Communications, Inc.
LightPointe is a San Diego-based manufacturer of wireless Gigabit capacity bridges for enterprise and 4G/LTE carrier markets, including small cell backhaul. Its AirePointe division also delivers wireless solutions to the government sector and security industry. LightPointe is majority owned by Berg & Berg Enterprises, LLC, the US$550,000,000 private venture arm of a Silicon Valley entrepreneur who is consistently listed on the Forbes list of billionaires. The company's interests include Mission West Properties (NASDAQ) and over 100 investments in chip, software and technology companies including Amdahl, Sun Microsystems and Integrated Device Technologies.