Next Evolution in Fitness Technology to Debut at CES
Spree biometrics device will be unveiled at Consumer Electronics Show in Las Vegas, January 8-11.
Dallas, TX, January 04, 2013 --(
PR.com
)-- The most advanced technology for measuring optimal workout performance will be introduced at the International Consumer Electronics Show in Las Vegas January 8-11. Spree, a revolutionary biometrics device that analyzes the three most important variables in every fitness routine – body temperature, movement and heart rate – is expected to become the new "must have" workout companion for serious athletes.
The first device on the market to combine body temperature measurement with the standard heart rate monitor and movement tracker, Spree captures all the real-time data needed to optimize every workout and achieve ultimate performance in one single and easy-to-use device. The sleek and comfortable headband unit streams information to a smartphone app that charts key body metrics and provides visual indicators when each activity's goal is reached.
"Traditional bracelets, armbands and chest straps are fine for tracking heart rates and other basic information, but they ignore the critical element of body temperature," explained Peter Linke, President of Dallas-based Hothead Technologies, Inc., which developed the proprietary technology in Spree. "Knowing the temperature at which your body reaches peak performance is a huge advantage, and Spree is the only device that does it."
Spree measures body temperature, distance traveled, speed, time, heart rate and calories burned, and combines these data points into simple graphs that indicate when your body is hitting its ultimate stride. Armed with this information, you learn where your body is burning the most calories, when it is building the most muscle mass and at what pace you are achieving maximum endurance.
Spree uses wireless Bluetooth technology to relay real-time information from the headband device to the smartphone app. Spree also stores the data in the unit for later download, for those without smartphones.
"We use the phrase 'On Your Mark' to describe how Spree directs you into the ideal zone for an optimal workout," said Linke. "There's simply no better way to learn how to maximize your body's physical performance which, after all, is the ultimate goal of fitness training."
To be among the first to see Spree in action, visit Booth #26605 at the 2013 International Consumer Electronics Show in Las Vegas from January 8 – 11. Customers may pre-order Spree online at www.indiegogo.com/spreesports/x/2001213 and at www.spreesports.com. The game-changing technology will be available in stores by May.
About Hothead Technologies
Based in Dallas, Texas, Hothead Technologies, Inc. (www.HotheadTechnologies.com) is a leading provider of wireless biosensor solutions, including the revolutionary Spree fitness device. Its patented and proprietary systems are at the forefront of performance measurement systems and are currently used to help prevent heat-related illness in athletes, firefighters and industrial workers. Hothead Technologies' solutions have earned national recognition, including Popular Science magazine's prestigious "Best of What's New" Award.
Contact
Hothead Technologies, Inc.
Ladd Biro
972.930.9933
www.spreesports.com
Champion Management is proud to be the PR agency of record for Hothead Technologies and the revolutionary Spree biometrics device.

Contact
Multimedia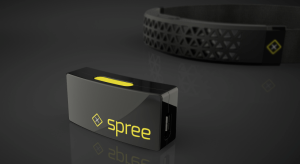 The sleek and comfortable Spree headband unit streams real-time information to your smartphone.