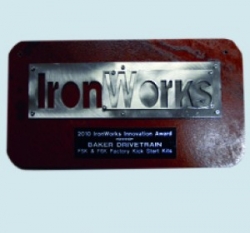 Montgomery, AL, January 16, 2013 --(
PR.com
)-- IronWorks magazine, a publication of Hatton-Brown Publishers, Inc., announced today the winners of the 2012 IronWorks Innovation Awards, to be presented at the V-Twin Expo in Cincinnati, Ohio, Feb. 2-3, 2013. The awards—also known as the "Stempys" in honor of the magazine's founding editor Dennis Stemp—have been presented since 2003 specifically to recognize leadership and positive momentum in the motorcycle industry.
"The IW Innovation Awards honor efforts that represent a fresh, forward-looking approach to our industry through creative action that advances interest or fills a need," said IronWorks Editor Marilyn Stemp. "Especially now, when 'wait and see' is the prevailing attitude in business, we feel it's appropriate to identify and acknowledge those companies and individuals who exhibit the courage to keep motorcycling not just viable but thriving."
Five awards are being conferred this year. The winners are:
• Roland Sands Designs for their Clarity Line.
• Lonnie Isam for the Motorcycle Cannonball Endurance Run.
• Performance Machine for their relentless product development and unparalleled industry support.
• Vance & Hines for their Shortshots and Stainless Hi-Output lines and steadfast support of racing.
• The Sturgis Buffalo Chip for their Crossroads Venue.
Congratulations to the winners!
For further information contact:
Dianne Sullivan, Chief Operating Officer
Hatton Brown Publishers, Inc.
Dianne@hattonbrown.com
334-834-1170
www.ironworksmag.com