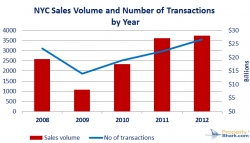 New York, NY, January 22, 2013 --(
PR.com
)-- The fourth quarter of 2012 saw the
NYC commercial
sales volume shoot up by 73% from the previous quarter. The $11.1 billion recorded in Q4 2012 was the highest quarterly value in the last 5 years and lead to an overall increase of 4% in 2012 compared to 2011.
The number of commercial transactions (3,545) has also reached a 5-year peak in 2012, up 20% from 2011 and up14% from 2008.
Over $5 Million Transactions
· 2012 registered 687 New York City commercial transactions higher than $5 million, accounting for $23.5 billion. It's no surprise that 72% of these transactions (495 in all) were from Manhattan.
· The median sale price in Manhattan ($11 million) decreased by 24% over 2011, but registered an 8% increase compared with 2008. The over $5 million commercial transactions in NYC represented a similar trend, only the changes are slightly different.
Five Borough Overview
· Comprising 78% of the total commercial transaction activity in the City, Manhattan remained steady compared to 2011, recording $21,872,412,194 in sales volume in 2012.
· Brooklyn, however, recorded a 5-year record in 2012. With commercial transactions amounting to $3.4 billion, the borough saw a 71% Y-o-Y increase and was up 44% from 2008. A big role in the record breaking value was played by the sale of the Kings Plaza Mall for $751,000,000.
Office and Retail Buildings
· Despite the overall commercial market increase, the sales volume recorded by the
office market
($14.9 billion) was down 10% in 2012 compared to 2011, but it is still 37% up over 2008. The price per square foot for this segment was $569 in 2012, reaching a 5-year high.
· With $3.25 billion, the
retail market
transaction volume almost doubled in 2012 compared to 2011 and was 86% higher than the value recorded in 2008.
PropertyShark.com provides real estate professionals, investors and savvy homebuyers from most US states with comprehensive property information, including owner name and phone number, building details, comparable sales, foreclosure listings, zoning, violations, maps, mailing lists, and photos. This is done in an effort to offer the transparency essential to evaluate real estate and make informed decisions.