Celebrate Today's Educators During Teacher and Staff Appreciation Week 2013
Teacher and Staff Appreciation Week, May 6-10, 2013, is the perfect time to say thanks to your special school team. Positive Promotions offers hundreds of budget-friendly, top-quality recognition gifts that will elevate your celebration to a more notable level while leaving your teachers and staff feeling well appreciated for their dedication to educating others.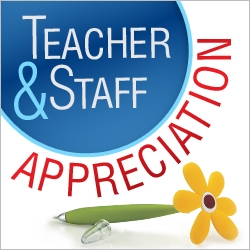 Hauppauge, NY, February 02, 2013 --(
PR.com
)-- Teachers and staff are some of the most influential people. They shape young minds and help create the foundation for a bright future. Positive Promotions encourages administrators, superintendents, PTA's, and parents to show their gratitude for the commitment teachers and staff show to their schools during Teacher and Staff Appreciation Week, May 6-10, 2013. With over hundreds of recognition gifts to choose from at every price point, teachers and staff will be honored when presented with Positive Promotions distinguished gifts.
A little recognition goes a long way. For people who dedicate their lives to educating others, teachers and staff deserve to know how much they mean to your school. A simple gesture of saying "thank you" with a token of appreciation, no matter how big or small, can make anyone feel their hard work is worthwhile. Positive Promotions offers a large assortment of budget-friendly gifts including pen sets, lapel pins, photo frames, portfolios, picnic blankets and more. Many products come beautifully gift boxed at no extra expense making them easy to give and wonderful to receive.
This year Positive Promotions has expanded the abundant options to choose from even further with dozens of new products added to their teacher and staff appreciation line. They continue to offer exclusive themes everyone will appreciate including their brand new themes of "Together We Shape the Minds of Tomorrow," "Thanks for Helping Young Minds Grow," and "I Teach…For Lots of Little Reasons."
Whether simple or elaborate, Positive Promotions urges schools to turn the spotlight on their teachers and staff during Teacher and Staff Appreciation Week celebrations. During a breakfast or luncheon, present teachers and staff with a Catalina Neoprene Lunch Bag or Honeycomb Sip 'N' Go displaying your preferred stock logo or personalized to boast your school name. Spread the celebration throughout the week with a Treat-A-Day Value Pack that can be placed in mailboxes each morning. Gift-Raffle Packs can be used for game prizes that will transform an ordinary school week into a fun event. Other gift options such as a Desk Caddy/Photo Frame, USB Key Ring or Eco-Friendly Stone Paper Notebook and Pen offer functional qualities to support teachers and staff in their jobs while bestowing inspiring sentiments of appreciation. With gifts starting as low as $0.83 each, there is bound to be an appreciation gift that works within any budget.
Positive Promotions is a budget-friendly, one-stop-shopping source for awareness and educational tools. It is a direct source that offers quality product at exceptional monetary value. Customers can order in 4 easy ways: online anytime at
positiveteachers.com
, by calling toll free at 1-800-635-2666 to speak to with a knowledgeable customer service representative Monday-Friday from 8am-7pm EST, by faxing an order toll-free at 1-800-635-2329 anytime, or by mailing an order to Positive Promotions at 15 Gilpin Avenue, P.O. Box 18021 Hauppauge NY 11788-8821. To request a catalog visit the company website at
positivepromotions.com
and click the catalog request link.
Contact
Positive Promotions
Mark Taxel
631-648-1200 ext. 2323
positivepromotions.com

Contact