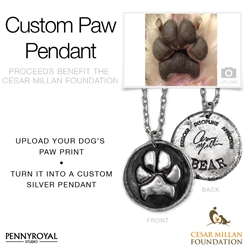 Los Angeles, CA, February 11, 2013 --(
PR.com
)-- Pennyroyal Studio Announces Custom Paw Print Pendants with Activist Cesar Millan.
Proceeds from the Pennyroyal Studio Custom Paw Prints to Benefit The Cesar Millan Foundation.
Pennyroyal Studio announces their latest charitable project with animal activist and world famous dog whisperer, Cesar Millan. Pennyroyal's many charitable collaborations have raised over $220,000 for various charities since 2009 including the 'Daddy Paw Print Pendant' with Cesar Millan which has raised $20,000 for the Cesar Millan Foundation to date. Following the success of the "Daddy Paw Print Pendant", customers are now able to upload an image of their own dog's paw print or paw and Pennyroyal will create a one of a kind silver pendant from each dog's unique paw shape.
The uni-sex Custom Paw Print Pendant will be available to order through February 28th, with proceeds benefiting The Cesar Millan Foundation's DEAR Fund. The handcrafted paw print designs are available on both sterling silver chain and black leather cord. An impression of Cesar's signature is available on the back of every pendant along with his mantra "Exercise, Discipline, Affection" and the dog's name. Prices range from $180 to $200. These will be available for purchase exclusively through
www.pennyroyalstudio.com
.
Cesar Millan is among many talented people who have worked with Pennyroyal Studio in releasing handcrafted designs to benefit charities. This latest collaboration enters new and more personal creative territory by giving customers the ability to create a pendant using their own dog's paw print. Pennyroyal's designer, Tim Foster says, "Each dog has a unique paw shape. A pendant made from the exact outline of your dog's paw is like wearing your best friend's finger print on a necklace. For people whose dogs have passed away, we can use a generic paw print from their breed and engrave the dog's name on the back as a wearable memorial. It's an honor to continue to work with Cesar and the Cesar Millan Foundation to support the DEAR Fund."
About Pennyroyal Studio: Pennyroyal Studio, the Los Angeles-based brand, was founded in 2006 by former music industry professional, Tim Foster. While creating a memento for his girlfriend, Foster discovered his love of designing jewelry and conceptualized his first collection of pendants. Despite the growth of the Pennyroyal Studio brand over the past 6 years, each collection continues to feature Foster's signature artisanal flare and handcrafted appeal that launched the successful jewelry brand. Pennyroyal Studio's designs are inspired by music, moments in Foster's life, and a desire to create designs that have a positive impact on each individual customer and the charities that benefit from them.
About Cesar Millan: Cesar Millan is a Mexican-born American dog trainer. A self-taught expert, he is widely known for his television series The Dog Whisperer with Cesar Millan now in its eighth season and broadcast in more than eighty countries worldwide. Prior to The Dog Whisperer series, Millan focused on rehabilitating especially aggressive dogs and founded the Dog Psychology Center in South Los Angeles (2002–2008) — under construction in a new Los Angeles location as of late 2009. www.cesarsway.com
About The Cesar Millan Foundation's DEAR Fund: Created in Daddy's memory, The DEAR Fund (Daddy's Emergency Animal Rescue Fund) provides assistance for dogs who are victims of abuse or violence, man-made disasters (hoarders and puppy mill rescues), and large-scale natural disasters (hurricanes, fires and other natural catastrophes). For more information or ways to donate visit www.millanfoundation.org
Media Contact for Pennyroyal Studio:
press@pennyroyalstudio.com