Magic Lice Removal Highlights There Are No Short-Cuts to Head Lice Removal
To get rid of lice, there are no short-cuts other than a quick shave of the head. Combing and time are crucial elements in proper removal.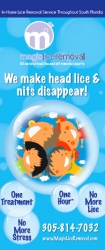 Miami, FL, February 13, 2013 --(
PR.com
)-- Magic Lice Removal, a Miami-based
head lice treatment
service wants to educate Miami area parents about proper, thorough head lice removal. When it comes to head lice, time and combing are the crucial components to getting rid of lice.
Hoping to fill the void of proper lice removal information, Magic Lice Removal founder, Tova Levine, tries to explain to customers and potential customers that regardless of the lice removal method used, other than a very "short cut" as in shaving the head, there are no short-cuts to getting rid of lice. Understanding this is the reason services like hers exist across the country.
Over-the-counter products and shampoos may claim to kill lice, but may not kill nits (eggs). Even new oral medication does not kill 100% of lice and eggs. Even if the lice are killed, any eggs remaining on the hair can hatch and start the process over. To reduce the risk of reinfestation, a thorough combing needs to be performed to remove any live bugs and nits.
"Parents have many options to help them get rid of lice," said Tova Levine, Founder of Magic Lice Removal. "No treatment can kill 100% of lice and nits, but time and careful nitpicking can. At Magic Lice Removal, we offer two proven options: (1) our LouseBuster™ treatment, followed up by careful combing; or (2) our thorough, comprehensive combing method. For either treatment, we guarantee complete lice and nit removal after a single appointment—which always takes place within the comfort and privacy of your own home."
Magic Lice Removal has been in business offering in-home lice treatment using natural, non-toxic products including the LouseBuster™ device to rid families of head lice in the Miami area.
About Magic Lice Removal – Magic Lice Removal was founded by Tova Levine to offer non-toxic lice removal throughout South Florida. The affordable in-home service offers both convenience and privacy. The products and methods used are safe, non-toxic and all natural. For more information about Magic Lice Removal or the LouseBuster™ device, call (305) 814-7032 or visit www.MagicLiceRemoval.com. We make head lice disappear!
Contact
Magic Lice Removal
Tova Levine
305-814-7032
www.magicliceremoval.com

Contact