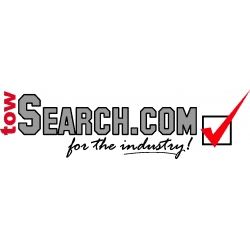 Keller, TX, August 01, 2007 --(
PR.com
)-- towPartners today announced that its towing and road service provider locator tool,
towSearch
, has been enhanced in several significant ways.
Users of the towSearch system can now save 10% on towing and road service with many towSearch service providers.
The entire towPartners network is now eligible to be listed on towSearch.com. Of the 36,000 towPartners members, approximately 20,000 service providers are currently listed on towSearch.
towPartners members will be listed at no cost through 2008 courtesy of the generous sponsorship of Basic Memberships for the entire towing industry by Jerr-Dan Corporation.
The towSearch tool is now capable of working with all types of mobile devices including cell phone operating systems and can be accessed and used at no cost by those with wireless internet access.
The towSearch search interface now includes the ability to pinpoint your location on a map when searching for the nearest qualified service provider.
towSearch has expanded its search capabilities to include companies that offer limousine specific towing and heavy duty repair shops.
With an online towing network of over 20,000 companies already listed on towSearch, and a total network of well over 36,000 companies, towPartners has the most powerful network in the towing industry with the most accurate data available regarding the capabilities of the towing and recovery industry nationwide. From wrecker companies to full scale towing and recovery operations with diverse capabilities, the towSearch tool is currently averaging hundreds of searches per day by motorists needing to find automotive service providers. The towSearch directory of companies is a free tool searchable by fleet managers, the general public, automotive repair facilities and anyone needing road services. towSearch will soon begin a grass roots marketing campaign to let the motoring public know about this valuable free service and is currently requesting assistance in these efforts.
Joel Amsley, Vice President of Jerr-Dan Corporation said "The towSearch tool offers the motoring public a great resource to use in selecting a service provider. Jerr-Dan Corporation is proud to be a part of providing this free service to the public as well as to the towing companies across the United States."
towSearch now includes search capability for the following services and more:
Light Duty Towing
Medium Duty Towing
Heavy-Duty Towing
Motorcycle Towing
Emergency Road Service
Battery Boost / Jump Start
Tire Change
Fuel and Gas Delivery
Body Shops
Repair Shops
Incident Management
Auto Transport
Lowboy Service
Motor Home Towing
Limousine Towing
More information is being added to this tool daily and more detailed information about service providers is being updated by the service providers themselves at an enormous rate.
"We have been working hard on some updates to towSearch and now feel the product is ready for a full production launch. It is our goal to provide the motoring public with a comprehensive listing of the best towing service providers while assisting our members in growing their business," stated Jeffrey Godwin, Vice President of towPartners. "With Jerr-Dan's generous provision of memberships to everyone in the towing industry we expect the towSearch network to grow tremendously without having to charge towing companies."
towSearch is a free tool from towPartners. From vehicle towing to roadside service,
www.towsearch.com
can help you search for the best providers anywhere in the United States. Please let them know about your experiences with their site at
towSearch@towpartners.com
.
About towPartners
towPartners is a division of towXchange, Inc. and is the leading provider of benefits to the towing and recovery industry. towPartners improves vendor relationships and the bottom line at towing and road service providers nationwide as well as within asset recovery operations. The towPartners program provides better pricing and quality service to towing and road service companies of all sizes as well as to those employed in the industry. The towPartners program currently has over 36,000 towing company members and continues to grow steadily. To learn more about towPartners, visit
www.towpartners.com
.
###