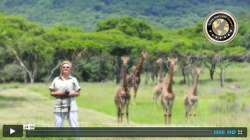 New York, NY, February 21, 2013 --(
PR.com
)-- South Africa's ultimate safari spa "Karkloof", featured on US TV, goes now for "Tourism Media Award"!
The US based Seven Stars Travel Show™ was recently filmed at South Africa's most recognized premier safari spa resort, at the Karkloof Safari Spa in KwaZulu-Natal, located by Durban, SA. Karkloof's amazing wildlife, the award-winning organic spa and cuisine and luxurious eco lifestyle is featured in this film close-up and on location. Now submitted for the international 'Tourism Media Award' at the upcoming ITB in Berlin.
Click and Watch Here!
The stunning TV show, produced by Multi Media Productions, USA was just submitted for the 'Tourism Media Award - The Golden City Gate' at the ITB in Berlin, March 6 to 8th, 2013.
Ingrid Lemme, TV host of New York's long standing 'American Dream Show®' guest-hosted the 'Seven Stars Travel Show™' with Thorsten Buehrmann, President of Seven Stars and Stripes® and Chef Walter Staib, host of 'A Taste of History'. A Taste of History taped an episode of their 4x-Emmy® award winning TV series at Karkloof at the same time.
Ms. Lemme said: "Karkloof was an African dream come true. I spent a week surrounded by sheer luxury, breathtaking views and amazing wildlife, spa-ing, organic dining, on safaris, climbing up waterfalls, adventuring, - and filming."
A Taste of History show is aired on national US TV on PBS and RLTV. "The PBS® TV series is presenting in this issue an 18th century perspective on the Zulu culture; cave paintings and the preservation of wildlife," said Emmy award-winning director Jim Davey mmp94.com. The Seven Stars Travel Show is aired on WVVH-Hamptons TV, tri-State New York, and nationally on RLTV.