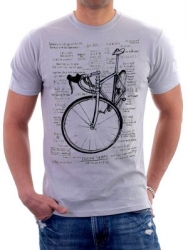 Sydney, Australia, March 01, 2013 --(
PR.com
)-- What started as a creative outlet for an artist & designer, obsessed with cycling and running, has now become one of the fastest growing online sports brands.
Selling online, Cycology Clothing has had an amazing first 18 months in operation and is now selling t shirts throughout Europe, Asia, America, NZ & Australia.
The team at Cycology were frustrated with the limited range of designs in
cycling t shirts
and
sports t shirts
and decided to take matters into their own creative hands. Working from a small design studio on Sydney's Northern Beaches, Cycology Clothing's General Manager, Michael Tomchin had no idea that people would connect to their t-shirts in the way they have.
"The response has been amazing and our customers have really taken our
cycling wear
to heart to the extent that our Facebook site has effectively become part of our design studio with our fans providing feedback on creative ideas.
"The 'Cycology' of our t shirt slogans really appeals to enthusiasts and we're also promoting the healthy living that goes hand in hand with the love of bike riding, running and swimming," he said.
"T Shirt designs like 'Cycling DNA', 'Cognitive Therapy' and 'Burn Fat Not Fuel' have been particularly popular with the cycling fraternity." "We have also recently branched into triathlon designs and the reception has been amazing."
The essence of each design comes from the time spent training and racing with other mad and gifted athletes with no shortage of humour. "There's nothing like spending time on the bike or running with friends to get the inspiration flowing."